They might be just toys for the grown-ups, but they are much more for children: friends, confidants, and an integral part of everyday life. That explains why your little ones like to play and spend so much time with their toys. If your kids are obsessed with their toys, they'll love these books that revolve around toys. 
Here are the 7 best kids' books about toys: 
Corduroy
The Velveteen Rabbit
Dogger
One Christmas Wish 
Toys Go Out
The Miraculous Journey of Edward Tulane
Winnie-The-Pooh
After scouring the internet, these were the seven toy-related books most often praised by both parents and children alike. Narrowing them down was a difficult task, but I think I've found the ones that have stood the test of time and continue to entertain and inspire little ones worldwide.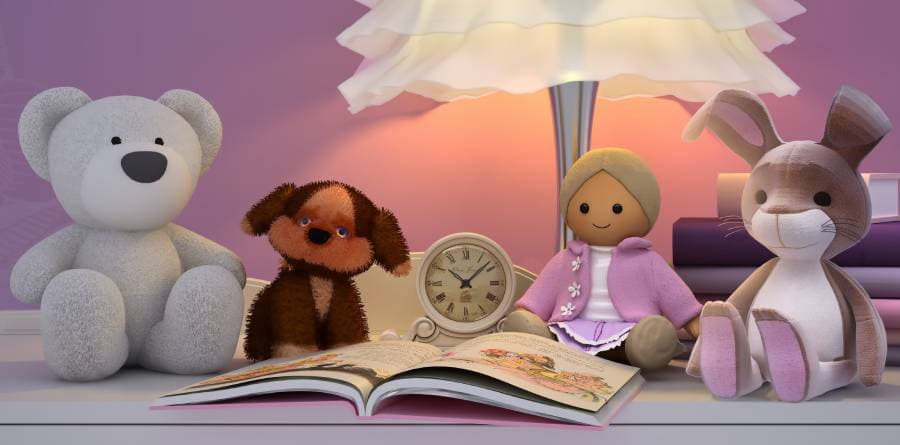 This blog post contains affiliate links
Author and Illustrator: Don Freeman
Age Group: 2-5 years
Summary
Corduroy is a teddy bear who lives in the toy section of a department store. He longs for a friend and a home. One day, Lisa comes across him and wants to get him, but her mother refuses, citing a missing button on his overall as a reason. This incident set a sad Corduroy on the quest to find the lost button. 
He looks everywhere, but his pursuit doesn't yield the desired result, and all seems lost when the watchman finds him wandering around and puts him back on the shelf. However, the next day, Corduroy wakes up to see that there is a pleasant surprise in store for him. 
Why It Deserves To Be on This List
Corduroy, written and illustrated by Don Freeman, became an instant classic upon its publication in 1968. And, now over 50 years later, this book remains as endearing as ever. 
The simplicity of the story, the bright and charming illustrations, and the likeability of the main characters make it such a heartwarming read. And, it teaches the kid a crucial lesson, i.e., looks don't determine someone's value; it's what's inside that counts. 
If your children like this book, you can introduce them to the second book in this series, A Pocket for Corduroy, or you can get both books in one volume as All About Corduroy. 
Author: Margery Williams
Illustrator: William Nicholson
Age Group: 3-7 years
Summary 
The Velveteen Rabbit is a stuffed rabbit given to a young boy as a Christmas present. However, the boy prefers to play with other toys that are modern and mechanical. These other toys are more expensive and skillfully made, and they look down on the rabbit. 
A Skin Horse also lives with all these toys. He is the oldest and wisest toy in the nursery, and he tells the rabbit that becoming real doesn't depend on how a toy is made. Instead, a toy becomes real when a child truly loves it. 
Rabbit likes the idea and aspires to be loved by the young boy. However, it's not an easy job when the boy doesn't even play with him. However, eventually, the situation changes for the better for the rabbit, and the boy starts to play with him. The rest of the story chronicles the rabbit's journey of becoming 'real.'
Why It Deserves To Be on This List
This beloved classic was first published in 1922. A century later, this book has achieved the status of a timeless classic and continues to be an enthralling read for kids as well as parents.  
Children believe in things like magic, fairies, hope, and imagination. This book has all of them. They tend to think that their toys can come to life. So, when they read about a rabbit that wants to become 'real,' they root for him. Finally, when the rabbit becomes 'real,' it fills them with joy and satisfaction. 
While the sweet and simple story delights the kids, like all good children's books, the book also offers some wise reminders for parents. For example, consider this line by Skin Horse, "Once you are real you can't be ugly, except to people who don't understand." Beautiful, isn't it?
Author and Illustrator: Shirley Hughes
Age Group: 4-8 years
Summary
Bella, Dave's elder sister, sleeps with seven teddies in her bed. Joe, his baby brother, is getting teeth and likes to chew toys, so he plays with hard toys. However, Dave only has eyes for Dogger, his soft brown toy dog.
One day, Dave and Dogger, along with Joe and mom, go to fetch Bella from school. Once they return, Dave is unusually quiet. Can you blame the poor kid? He has lost his beloved toy dog. And even though Bella was kind enough to lend him one of her teddies, it's not the same as going to bed with Dogger.
There is a school fair the next day, and Dave accompanies his family to the school, but he isn't much interested in watching or participating in the competitions. He is roaming around when he chances upon Dogger at a toy stall. Dave wants to buy him, but he doesn't have money, and by the time he comes back for his Dogger, someone else has bought the toy. 
If you're feeling bad for Dave by now, please don't. He is reunited with Dogger in the end and learns a thing or two about family in the process. 
Why It Deserves To Be on This List
Kids losing their favorite toy and finding it again is a recurring theme in children's literature. There are many other titles out there that address this subject matter, but the way Dogger uses sibling love to arrive at the resolution of the story sets it apart from others.
This book is an excellent read for families with multiple children, and it can be a great bonding time for all of you. The all-encompassing story and illustrations will keep your children hooked and help you teach them empathy, kindness, and how to take care of each other. 
Author: Katherine Rundell 
Illustrator: Emily Sutton 
Age Group: 5-9 years
Summary 
It's Christmas eve, yet Theo's parents are busy with work as if it's a normal day. A lonely Theo is putting up decorations all by himself when he locates a shooting star outside his window. Poor kid makes a wish with every inch of his heart; he wants to be 'un-alone.' 
Then, something magical happens. Four ornaments from the Christmas tree — a rocking horse, a robin, a tin soldier with a drum, and an angel — come to life. And though the toys are here to give Theo some company, they all seem more concerned with themselves and their own wants. 
A little chaos ensues, and Theo sets out to get them what they want, albeit somewhat reluctantly. It turns out to be a quirky but delightful journey that takes him and the group to the woods, a church, and the biggest toyshop in the city. The story ends on a sweet note, and everyone gets what they want, including Theo. 
Why It Deserves To Be on This List
One Christmas Wish was published in 2017. Even though this is a relatively new release, the book has all the makings of a classic. 
Katherine Rundell's story has whimsical charm and warmth, and Emily Sutton's illustrations are gorgeous and dreamlike. Together, they manage to evoke Christmas's cozy, vibrant, and magical feelings. 
They say the best children's books appeal to readers of all ages, and this one certainly does that. The story has enough humor and mischief to entice young readers. It also reminds adults what actually matters in life, at least during festive seasons – the company of loved ones. 
This Christmas, read this book with your kids, and it can be an enriching experience for all of you. 
Author: Emily Jenkins 
Illustrator: Paul O. Zelinsky
Age Group: 6-9 years 
Summary 
Toys Go Out is a collection of six linked stories featuring a Little Girl with the blue barrette and her three best friends. These best friends are Lumphy, a stuffed buffalo; StingRay, a stuffed stingray; and Plastic, and you'll have to read the book to know what she is. 
Each story takes these friends on an adventure as they grapple with issues like a trip inside the terrifying bigness of the washing machine or finding the right birthday present for the Little Girl. These toys experience and learn to deal with emotions like jealousy, worry, self-worth, and joy in the process. 
Why It Deserves To Be on This List 
Even kids feel complex emotions. They wonder if their family loves and cares for them; they want to know if they belong. However, most children's books fail to address these feelings. 
Not Emily Jenkins, though. Her stories touch on issues like love, belonging, safety, etc., in a gentle but light-hearted manner appropriate for young readers. As a result, this book resonates with children, and they find it relatable. 
This book is the first installment of the highly acclaimed Toys trilogy, and if your children like this issue, they'll also like Toy Dance Party and Toys Come Home.
Author: Kate DiCamillo
Illustrator: Bagram Ibatoulline 
Age Group: 7-10 years
Summary
Edward Tulane is a china rabbit owned by a ten-year-old girl Abilene. She adores him and takes the best care of him. Everything is going well for Edward but one day, while on vacation, Edward falls overboard and finds himself stuck at the bottom of the ocean. 
Thanks to a storm, Edward is able to free himself from the seabed and is caught in the net of a fisherman. Life takes him on a journey where he moves from one place to another and meets life-altering characters. And in the end, Edward manages to find his way to Abilene.
Why It Deserves To Be on This List
The Miraculous Journey of Edward Tulane is a children's book, but it offers quite a few valuable lessons to readers of any age. The main one is what it means to love and be loved. As an old doll reminds Edward, "If you have no intention of loving or being loved, then the whole journey is pointless."
The sign of a great book is that it leaves you slightly changed by the end, and The Miraculous Journey of Edward Tulane does that. 
Please note that this book has some tragic scenes that can be an issue for sensitive kids. Please read it before giving it to your kid to see if it's a good fit for them. 
Author: A. A. Milne
Illustrator: E. H. Shepard
Age Group: 4-7 years
Summary 
Winnie-the-Pooh is a collection of ten short stories featuring Christopher Robin, his teddy bear Winnie-the-Pooh, and their friends Piglet, Eeyore, Roo, and others in the Hundred Acre Wood. 
Winnie-the-Pooh loves honey and is ready to go to any extent to get more of it. He doesn't mind climbing a tree or floating up with the help of a balloon to get more honey. He often gets into trouble, and Christopher Robin and other friends try to help him out, which makes for a fun read.
Why It Deserves To Be on This List 
Winnie-the-Pooh is the quintessential children's book and perhaps the most famous one featuring a toy. It's difficult to imagine a list of books about toys and not have Winnie-the-Pooh in it. (On a side note, this title also appeared in our list of 9 Most Read Children's Books in the World, which you can read here.)
There are good reasons this book is so popular. It is such a humorous and engaging read. A. A. Milne understands the mind of a child, and his writing connects with the young reader and the children within adult readers alike.  
Then, there are quotes that you see all over the internet, like "Some people care too much. I think it's called love." or "You're braver than you believe and stronger and smarter than you think." You don't want your kid to miss out on such nuggets of wisdom, do you?
A. A. Milne went on to write a couple of more books in the series, and you can get all of them in one edition as The Complete Tales of Winnie-The-Pooh.