If you're thinking of writing a children's book, or if you're purchasing a book for a child, you may be wondering what exactly makes a children's book good. After all, it's probably been a while since you read a children's book for your own enjoyment, so how are you supposed to know what separates a good children's book from the rest of the pack? 
Here are the 10 characteristics that good children's books have: 
A simple, easy-to-follow, and interesting plot
Likable and identifiable central characters
A clear distinction between "good" and "bad"
Interesting and engaging language
Captivating and high-quality illustrations
A teachable lesson
Relatable to a wide range of children
Interesting setting that is either familiar or fantastic
A clear beginning, middle, and end
Adults find it entertaining too! 
Let's take a closer look at all of these characteristics and discuss why they're essential in the best children's stories. I'll also offer examples of these characteristics in children's books so that you'll have a good idea of what to look for when you're shopping or what to draw inspiration from if you're writing!  
This blog post contains affiliate links, all book recommendations are available from Amazon.com.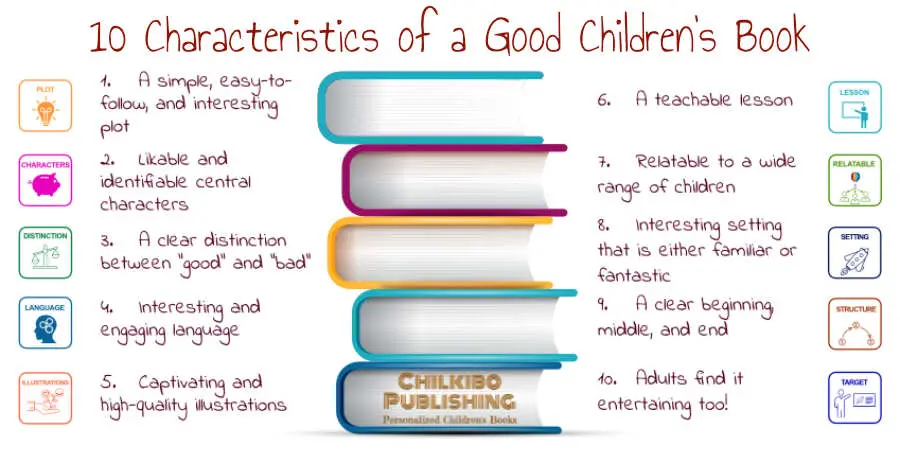 1. A Simple, Easy-To-Follow, and Interesting Plot
An engaging plot is especially important for children's literature. Adults are more capable of working their way through largely character-driven stories or books where not much happens but much is discussed. 
However, most children don't have the same patience for this kind of writing. Things need to happen, and they need to be exciting things! Unexpected things! Things that'll make them laugh and gasp and react to the words on the page. 
There's no formula to the perfect plot for children, but there are some common story types that children tend to connect with, including:
A hero defeats a monster 
A rags to riches journey
A journey or a quest 
A retelling of a fable  
A protagonist has a dream  
These plots have structures that are easy for children to follow and interesting enough to keep them reading.
One "protagonist with a dream" book I like is Mo Willems' Don't Let the Pigeon Drive the Bus!. Children will laugh and relate to this stubborn little pigeon who just wants to drive the bus after the bus driver takes a break. It's an easy plot that children of many ages can understand and appreciate.   
2. Likable and Identifiable Central Characters
If a child likes or identifies with a character, they're going to like the stories that that character is in. The protagonists should be dynamic and have unique personalities, hobbies, fears, and strengths. They should also have goals, whether they're something big like climbing a mountain or something smaller like learning how to tie a shoe.  
The characters should also have relationships with other characters recognizable to children, like friends, family, teachers, classmates, and others. If children can recognize themselves in a character and see how that character interacts with others, they may learn something about how they behave in their relationships. 
One example of a character with a clear personality and goal is Rocket in Nathan Byron's Rocket Says Look Up!. 
In this book, Rocket is an aspiring astronaut, and she's intent on getting her community to look up at the stars with her. Even if children don't necessarily want to be astronauts, they'll be able to relate to Rocket wanting something and working hard to get it. 
3. A Clear Distinction Between "Good" and "Bad"
Children's books are an important source of concepts and lessons for children, and children transfer the information they learn from books to the real world. In this way, books are essential for children's development and learning about life and the world, which means that the best books set out a clear distinction between "good" and "bad." 
The line between "good" and "bad" isn't as clear or definite in real life as in children's literature, but for children to begin to learn about these complicated concepts and divisions, they need to start in a simpler place. Having a clear "good guy" and "bad guy" is a good way to encourage kids to start thinking about their morals and positive qualities and encourage them to amplify everything about them that's good. 
A famous example of this, for older children, is the Harry Potter Series by J.K. Rowling. In this series, it's made very clear that Lord Voldemort and his supporters are bad and Harry Potter and his supporters good. Still, as the books continue (and the readers, in theory, get older), this clear division starts to blur, just as it does in the real world.
4. Interesting and Engaging Language
To keep kids interested, the language used in a book has to be interesting to them; otherwise, they'll lose focus and want to do something else. The words should flow naturally from page to page. One popular way to make text interesting for children is to use rhyme. 
Rhyme parallels with song, and children connect with songs because they're rhythmical and fun! Rhyme sets a tone and a tempo that children connect with, which will have them reach for that book repeatedly. 
However, rhyming can be difficult, and it shouldn't be your main priority if you're writing a children's book. Here's where rhyming can go wrong: 
The rhyme is the main ingredient in the book. Rhyming is interesting and engaging, but if it's the only interesting and engaging thing about the book, then it's not a good story, and children will lose interest fast. 
Words are selected just because they rhyme. In some cases, words are used out of context just because they rhyme, which makes the story make less sense and can confuse children. It may even give them the wrong idea about what a word means if it's new to them!
The story gets off track because of the dedication to rhyming. Maybe a character needed a new hat, and then all of a sudden, a bat appears because it rhymes, even though the bat doesn't have anything to do with the rest of the story. A plot can go off the rails fast, especially if the author is dedicated to a rhyming scheme. 
Dr. Seuss's books are great examples of how language can be interesting and entertaining enough to keep kids interested, and he's a great rhymer too! Many of his books for children are beloved and popular, and my personal favorite is One Fish, Two Fish, Red Fish, Blue Fish. 
If you're looking to purchase books with engaging language, I recommend the Dr. Seuss's Beginner Book Collection. This set comes with the titles many consider Seuss's best, including:
The Cat in the Hat
One Fish Two Fish, Red Fish, Blue Fish
Green Eggs and Ham
Hop on Pop
Fox in Socks
If you're reading these books to your child, make sure that you do some tongue twisters beforehand!  
5. Captivating and High-Quality Illustrations
Children can get bored if there are just words on the page, and they may get so distracted that they want to give up on reading the book altogether. One way children's authors and publishers keep young eyes on the page is by adding illustrations that enhance and add to the story. 
The best illustrations are lively and colorful and make the child excited to turn the page and see what's coming next. Illustrations also encourage kids to become visual readers, and eventually, they'll be able to provide their own illustrations with their imaginations, which will help them become readers for life. 
There are many examples of children's books with stunning illustrations, but one of my favorites is Marcus Pfister's The Rainbow Fish. Not only are the watercolor illustrations gorgeous on their own, but the shiny foil inlaid in the book provides another level of wonderment. 
6. A Teachable Lesson
Children are learning and growing every day, so children's books should provide a valuable message and teach them about all the important, positive things you can think of, such as:
Life
Friendship
Family
Love
Diversity
Acceptance
Courage
Teamwork
Kindness
Or, if the children are really young, the book can be a vehicle to teach them about simple concepts like numbers, letters, and colors. 
However, there are ways to teach a lesson without being overly obvious and blunt about it. Children are clever, and they can pick up on what they're meant to learn without it being too obvious. There's no reason why any children's book should include the line "That's why it's important to share!" The book should show children why it's important to share, not tell them. 
One classic example of a children's book that teaches a lesson is Shel Silverstein's The Giving Tree. The tree's unchecked altruism teaches children about generosity, and the boy's insistence on getting everything he wants and not focusing on what he needs can even teach adults a thing or two. This book is one of the greats for a reason: not only is it engaging, but it's also informative. 
7. Relatable to a Wide Range of Children
The best books can be read by all kinds of children and still be loved, no matter their gender, height, hair color, skin color, interests, strengths, weaknesses, or whatever else makes them different from other children. Books can accomplish this by making their lessons universal and/or making their characters likable and relatable for all.
One example of this is Alexander and the Terrible, Horrible, No Good, Very Bad Day by Judith Viorst. Every child, and indeed every person, has had a horrible day in their life, so everyone will be able to find something to commiserate within this book.
8. Interesting Setting That Is Either Familiar or Fantastic
Because children have a shorter attention span, every part of a children's book must shine, including the setting. Even if the book's characters, language, and lessons are great, if the setting is lacking, children will probably pick up on this and want to do something else. 
The best children's books can transport children into the story, and to do this; the setting should be familiar or fantastic. If the setting is familiar enough to the child, it'll be easy to imagine themselves in the character's shoes. On the other hand, if the setting is fantastic and imaginative, children won't want to stop reading.  
One example of the latter is Charlie and the Chocolate Factory by Roald Dahl. What child wouldn't want to imagine themselves in a magical factory full of candy, with a chocolate waterfall and Oompa-Loompas? I'm an adult, and I even want to be there!  
9. A Clear Beginning, Middle, and End
Kids identify with a clear structure, so the best children's books have a distinct beginning, middle, and end. This way, kids don't get confused or lost within the story, which could cause frustration or make them want to give up on the book. 
A good example of this, and a classic favorite, is Eric Carle's The Very Hungry Caterpillar. This book is largely a vehicle to teach children about numbers and the days of the week, but it also has a very clear beginning, middle, and end. In the beginning, the caterpillar is hungry, so he eats; in the middle, he is in his cocoon, and in the end, he's a beautiful butterfly. 
10. Adults Find It Entertaining Too!
C.S. Lewis argued that any children's story that's enjoyed only by children is a bad children's story. It's difficult to disagree with him! The best children's books stand the test of time and can still elicit a response from adults. How many times have you heard an adult gasp when they see a book they loved as a child and proclaim, "I love this book!" Love, in the present tense, not in the past. 
Another thing to consider is that adults (or young adults) are going to be the ones reading these books with children, so they should also find some value in them, whether it's in the lesson learned, the beautiful illustrations, the fascinating characters, or (better yet) all of the above. In this way, a good children's book goes beyond being a good book and enters a realm of timelessness and treasure. 
My favorite children's book of all time, and one that I believe embodies all of the qualities on this list, is Where the Wild Things Are by Maurice Sendak. Its lovable, relatable characters and straightforward lessons, in addition to the gorgeous and unforgettable illustrations, appeal to me even now as an adult just as much as they did when I was a child.