Earnest Hemingway, one of America's most celebrated fiction writers, wrote with a distinct and inimitable voice. Papa Hemingway remains a strong presence in literature for his sparse, direct style, unique detailing of wartime life, and the evolving role of masculinity in culture. His cultural impact is undisputed, but how many books did he actually write?
Hemingway published 16 books in his lifetime and his publishers released 27 more after his death, totaling 43. He belonged to a generation of writers known for their fascinating lifestyles and heavy drinking.
His appreciation for the bottle and his service in World War I strongly influenced his books' style and content. The prolific man of letters wrote novels, short stories, letters, and non-fiction treatises. Let's take a closer look at some of the books Hemingway wrote over his life.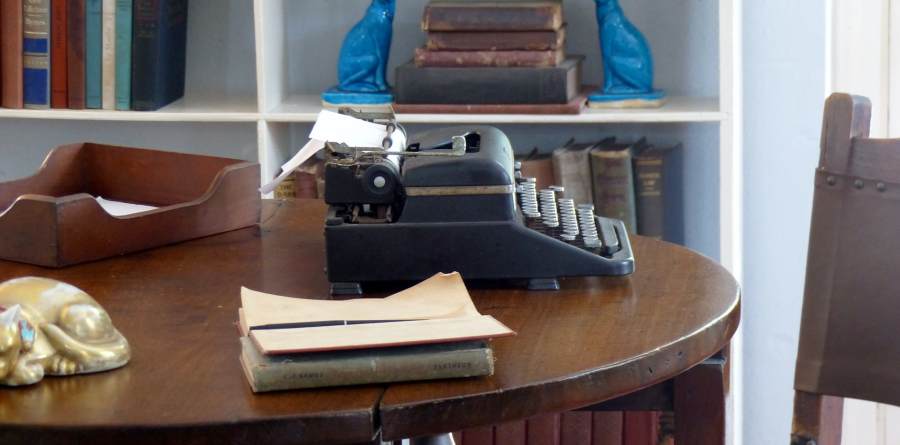 Fiction
Hemingway's fiction is among the most celebrated in the American pantheon. Papa's prose is immediately identifiable. He relied on short, potent sentences to deliver his stories of masculinity and ennui. His books espouse the listlessness of the post-war era. Hemingway's books were heavily informed by his own military experience and his expatriate lifestyle.
Novels and Novellas
Hemingway's novels and novellas earned him the Nobel Prize in Literature in 1954. These American classics continue to influence young, disillusioned writers. These lengthier stories defined his legacy: long-form narratives that detailed the masculine experience in direct but sensitive prose.
Novellas
The Old Man and the Sea (1952) is arguably Hemingway's most well-known work. The novella's been adapted for film twice and television once. These adaptations attracted top talent, including Spencer Tracy and Anthony Quinn. The Old Man and the Sea also won the Pulitzer Prize in 1953.
While less famous, The Torrents of Spring (1926) was Hemingway's first long-form work of fiction and established him as a force in the writing world.
Novels
The Sun Also Rises (1952) announced the arrival of an immeasurable talent. Hemingway's first novel established many of his pet themes: the exploration of love and loss through the male gaze and a passion for bullfighting and Spanish culture. All of Hemingway's novels were published by Scribner's.
The Sun Also Rises (1926)
A Farewell to Arms (1929)
To Have and Have Not (1937)
For Whom the Bell Tolls (1940)
Across the River and Into the Trees (1950)
A Farewell to Arms, For Whom the Bell Tolls, and To Have and Have Not all have movie and television adaptations. These films and shows featured such notable stars as:
Gary Cooper
Helen Hayes
Ingrid Bergman
Humphrey Bogart
Lauren Bacall
Rock Hudson
Ava Gardner
Short Story Collections
A writer as concise and brief as Hemingway was bound to shine in the short story format. These tales shaped American literature and remain staples of English literature classes. Hemingway's sixty short stories include beloved classics like A Clean, Well-Lighted Place, Hills Like White Elephants, and The Snows of Kilimanjaro. They've been collected in several volumes:
Three Stories and Ten Poems (1923)
In Our Time (1924)
Men Without Women (1927)
Winner Take Nothing (1933)
The Fifth Column and the First Forty-Nine Stories (1938)
The Essential Hemingway (1947)
The Snows of Kilimanjaro and Other Stories (1961)
Non-Fiction
Hemingway published two non-fiction volumes during his lifetime. Both explored traditionally masculine pastimes enjoyed abroad. Death in the Afternoon (1932) examines Spanish bullfighting's culture and traditions.
As the name suggests, Green Hills of Africa (1935) is about the time Hemingway spent in Africa with his wife. The book recounts the month-long safari the couple enjoyed in 1933.
Posthumous Releases
Hemingway's death was abrupt. He left behind several works Scribner's would publish posthumously. Novels, short stories, and instructional fragments were published after his death in 1961 and have continued to be released as late as 2020.
Novels
Hemingway left behind three books scholars speculate were intended to be a trilogy. Papa never completed these books, so we will never enjoy them in their intended forms. However, Hemingway's wife and editors worked together to complete Islands in the Stream (1970), combining the written novel with a short story they felt complimented the unfinished work.
The Garden of Eden (1986) strays even further from Hemingway's vision. The editors cut massive chunks of text from the manuscript. Scribner's cut 130,000 of Hemingway's 200,000 words.
Short Story Collections
Hemingway's posthumous short story volumes collected his writings from various literary publications. These stories made it into magazines but never into published books. Some collections are simply regroupings of Hemingway's previously published works-cynical cash grabs that offered no new material.
The Fifth Column and Four Stories of the Spanish Civil War (1969)
The Nick Adams Stories (1972)
88 Poems (1979)
Complete Poems (1979)
The Short Stories of Ernest Hemingway (1984)
The Complete Short Stories of Ernest Hemingway (1987)
The Collected Stories (Everyman's Library)
Non-Fiction
Much of Hemingway's posthumous, non-fiction output distills his diaries, letters, and journalistic endeavors into singular volumes. Scribner's collected Hemingway's letters and ruminations on some of his pet topics and released them as books.
Separately, Cambridge University Press has undertaken the massive project of releasing Hemingway's comprehensive letters. The epistolary volumes aim to collect every existing Hemingway letter across multiple books. Cambridge anticipates the project taking 20 years to finish.
Hemingway, The Wild Years (1962)
A Moveable Feast (1964)
By-Line: Ernest Hemingway (1967)
Ernest Hemingway: Cub Reporter (1970)
The Dangerous Summer (1985)
Dateline: Toronto (1985)
True at First Light (1999)
Under Kilimanjaro (2005)
Hemingway on Writing (1999)
Hemingway on Fishing (2000)
Hemingway on Hunting (2003)
Hemingway on War (2003)
Hemingway on Paris (2008)
Ernest Hemingway Selected Letters 1917-1961 (1981)
The Letters of Ernest Hemingway: Volume 1, 1907-1922 (2011)
The Letters of Ernest Hemingway: Volume 2, 1923-1925 (2013)
The Letters of Ernest Hemingway: Volume 3, 1926-1929 (2015)
The Letters of Ernest Hemingway: Volume 4, 1929-1931 (2017)
The Letters of Ernest Hemingway: Volume 5, 1932-1934 (2020)
Conclusion
Ernest Hemingway's work shaped the legacy of American literature. His books, stories, and articles defined a generation and created a literary style still emulated today. He wrote novels and short stories, fiction, and non-fiction books during his lifetime.
He applied his unique voice to long-form and short-form projects, leaving behind a celebrated body of work. Hemingway's name graces many posthumous works as well, continuing his legacy after his death.
Sources