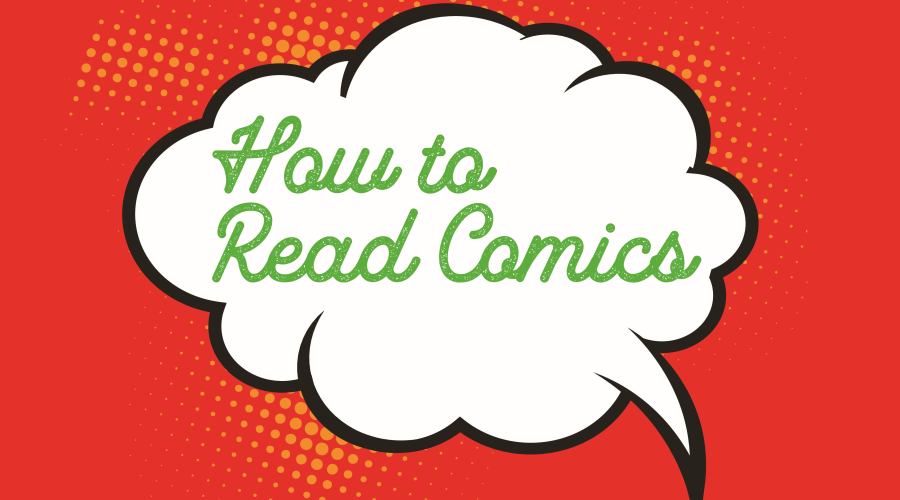 Reading comics can be intimidating. There are images with texts everywhere. Sometimes, it is difficult to follow the series of events.
There are several genres to pick from, each with their style of drawing and alignment. These varieties make it even more difficult to settle for a comic book to read. As there are no laid-down guidelines for starters to follow, beginners cannot help but ask how to read comic books.
You read comic books from left to right, comic pages come in a "z-like" pattern from left to right, rather than in a straight line. You make your way down the page, reading the rows that are on top of one another.
The page layout comprises individual panels, which are single images that tell the story sequentially. The gutter is the gap that exists between each panel of the block.
While little details such as the gutter and panel size, as well as the design of a panel's border or frame, may appear inconsequential, they are actually places where comic book writers weave in important concepts.
When I first chose a comic book to read, it took me a while to comprehend the structure. However, with the right strategy, I discovered the correct method of reading through each page to understand the concept. In this article, I shall share these strategies to guide you while reading comic books.
How To Read Comics In Order
Basically, you read comic books by looking at the panels on each page in the order "left-right, up-down." It is possible that you will have to read certain panels irregularly depending on the style of the panels on the page. Most of the time, depending on what's happening in the story, you should be able to figure out the optimal sequence in which to read the panels.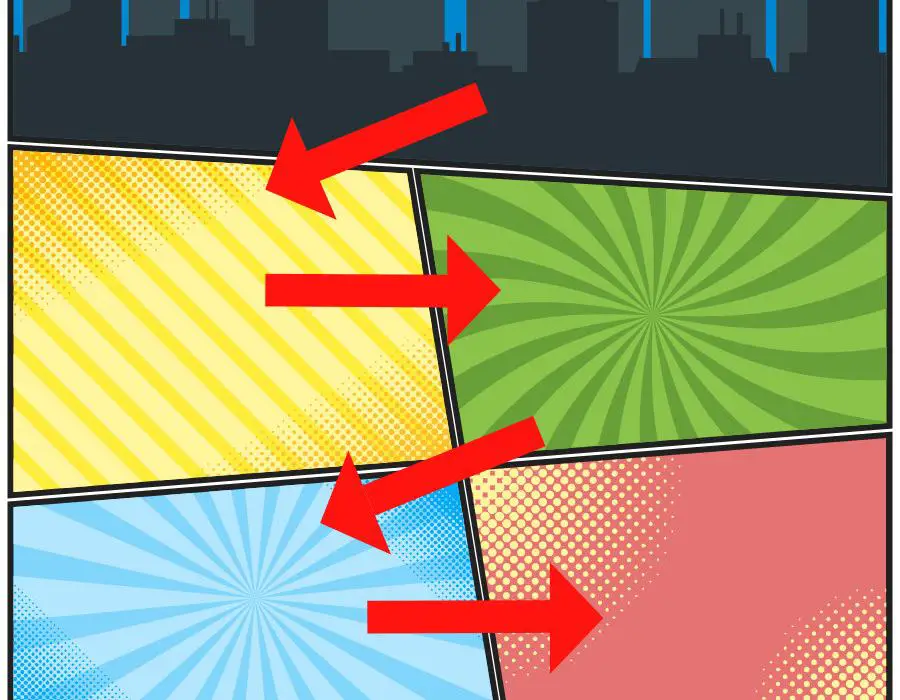 You travel through the panels in the sequence in which they appear on the layout, taking in the photos and reading the text along the way. If the layout is not obvious, it becomes harder to understand the idea the scene portrays.
It is best to read the comic book twice, rather than once. The first time I read a comic book, I focused completely on the words, just occasionally glancing at the photographs. The second time I reread the material, I paid closer attention to the pictures and took in every detail. Occasionally, as you progress through the second read, you'll understand the previous text you read, giving you a better understanding of the narrative.
You could also opt to carry out these two simple tasks. Compile a list of all the words on the page, and then arrange them in the order that makes the most sense to you. Using this technique will take a longer time, but it gives you a broader and clearer view of the page's story.
If you want to understand comics as literature, avoid buying newsstand copies and instead buy trade paperbacks. Sometimes, a new title can confuse a new reader who does not know what previous titles were about. The TPB industry makes it easier for you to understand these comics by collecting every series of a particular comic and publishing it in one book.
How To Read Comics The Marvel Way
For comic books, it's impossible to talk about them without mentioning Marvel. The brand has made a name for itself around the world because of its comic books and groundbreaking superhero themes.
It is possible to read Marvel comics in different ways. There are 235 Marvel publications plus five bonus alternate world series with different series orders. Start by reading about well-known marvel characters.
If you're interested in learning more about the characters from the Marvel Cinematic Universe or the X-Men films, you may read about them in the Ultimate Marvel Universe comic book series, which is currently available on Amazon.
Another strategy for reading Marvel comic books is to pick a few important events. There are a range of comics to choose from. You have The Civil War, The Secret Invasion, and the Infinity Gauntlet.
Finally, pay attention to the personalities of the characters. Marvel has several characters they pull together to form teams. However, each character has an individual story. If you want to gain a deeper understanding of more current Marvel storylines, become more familiar with these specific characters.
Beginner Tips To Reading Comics
When you're a beginner, the entire concept might be fascinating, yet overwhelming. You might have probably come across some engaging titles that make you want to dive right in. These titles might be a little higher for you if you do not know what a comic book entails.
Well, there are ways to solve that which I explained in the next section.
Consider The Comic Book You'd Like To Read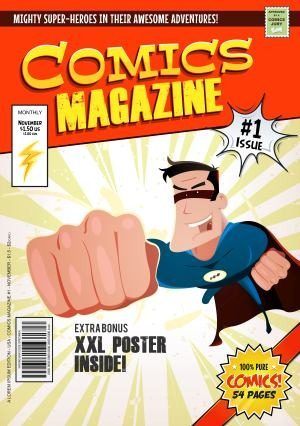 Before setting out to get a comic book, think of the genre you would like to explore. Movies, television shows, novels, and video games can be an influence on the type of comic you settle for. Therefore, you can opt for comic books that have the same storyline with movies or books you've seen or read.
Another technique to choose what comics you want to read is to look at what is easily available. There are several websites and stores that contain an ever-expanding reading recommendations section, which have several selections for a beginner.
When you think of a comic book, the first thing that crosses your mind is Marvel or DC productions. These two organizations remain one of the leading comic producers and both focus on creating superheroes and other fantasies. But, In comic books, superheroes aren't the only thing to look forward to.
There are a plethora of exceptional publishers to look out for. There is Scholastic, Image Comics, Fantagraphics, Viz Media, Boom Studios, IDW Publishing, Dark Horse Comics, Archie Comics, AdHouse Books, Drawn & Quarterly, Europe Comics, and a bevy of other notable publishers.
Take Advantage Of Free Comics
Make use of free and legal comics resources before handing over your hard-earned cash at the register for publications you might not like. This enables you to experiment with comics without putting your money at risk. It also allows you to understand the medium and settle for a comic genre you prefer.
Do you have any comic book enthusiasts among your circle of friends? Beg them to lend you some. Not only is this a free source of comic books, but your friends will have a better notion of what stories you will enjoy reading and may assist you in finding them.
If your local library has a graphic novel collection, you should definitely take advantage of it. A good library will contain a diverse range of books from which to choose, allowing you to experiment with a variety of different narratives. You won't have any problems returning to an unsatisfactory graphic novel because you can always get another one from the library.
Visit Several Libraries
Once you have a better idea of what to look out for in comics, visit several libraries to find the right comic books for you. Your library could be any of the physical stores close to you or libraries you find on the internet.
Do not be afraid to tour a library in search of a comic book of your choice. Browse the shelves to get a sense of the products they sell and the comic books available for purchase or reading.
If you're unsure of what comic book to pick out of the shelf, seek guidance from a member of the staff. Librarians are usually a friendly group of people who take pleasure in pushing readers toward new comics.
Also, make a point of visiting the store frequently. You can decide to go once a week, twice a month, or even once a month. The frequency with which you visit your store, however, depends on how fast you are with a publication and how much you have to purchase more.
For e-libraries, follow the store on social media to stay up to date on all the newest news and happenings in the store. Many sources provide weekly release schedules, which may be useful in keeping track of when the next issue of your favorite comic will be available.
Gradually Broaden Your Perspective
After you've been reading comics for a while, broaden your reading horizons. With this, you will come across a whole new universe of stories, ideas, and artwork that you were previously unaware of.
You can accomplish this by looking at other works by your favorite artists or writers. Or you can check out works by other writers who are like your favorites.
When broadening your comic horizon, consider your budget. Do not be in a hurry, rather, progress at your comfortable pace.
Join Comic Communities
When you enjoy comic books, you may wish to discuss them with others who have similar interests. One way to accomplish this is to become a member of an online community such as Comic Vine or Reddit. You can also join physical events that local comic shops host.
If you become engaged in the comics community, you will meet individuals who share your excitement for comics and you may even meet people who may become lifelong friends.
Misconceptions About Reading Comics
There are several misconceptions about reading comic books. These false facts can be a turnoff for potential comic book readers.
You Must Start With The First Issue
Contrary to common belief, you do not have to begin with issue #1 of a comic book to understand it. Many readers did not consider their first issue to be a #1 for them. It was a random series, sometimes far from the first.
For example, I've read several X-Men comics, but I didn't start with issue #1 until later. #180 was the very first issue I ever bought. While I wasn't entirely sure what was going on, I rapidly became acquainted with the characters I wasn't familiar with. This didn't make the experience any less entertaining.
If I was unsure of something or wanted to learn more about a particular character, I turned to friends for clarification and information.
While reading a series in the middle of a novel might be difficult, it does not affect the fundamental concept of the story. You should pay attention to basic details and characters to get a better understanding of the idea. It doesn't matter which issue you begin from as long as you enjoy the storyline and graphics.
The Availability of Comic Books Is Limited
While comic books are not readily available, they are not as difficult to come by as you might expect. You can find comic books in several places including comic book stores, bookstores, and the internet.
Comic Store Keepers Are Unwelcoming
Several people believe that a storekeeper in a comic store is an unfriendly character. This is very untrue.
Majority of comic book stores are pleasant, helpful, and excited about what they do in their communities. They're open to have a chat with you about anything and are eager to assist you with your questions and concerns.
While the negative impression of comic book retail used to be accurate, it has significantly changed in the last 15 years. Now, more professionals are hospitable to all customers.
Comics Are Only About Superheroes
The most popular comic publications are about superheroes. But there are other genres you can explore, including adventure, romance, war, crime, espionage and lots more.
It's difficult to piece together the backstories of the series and the characters in a comic
According to the late Stan Lee, "every comic is someone's first comic book." Many comic book writers and editors, particularly those at Marvel and DC, take Stan Lee's words into consideration while producing their stories.
Writers rely on exposition and other storytelling techniques to keep readers up to date on what they need to know. Editors will frequently include recap pages at the beginning of comic books to keep readers on the same page.
Even the most intricate histories aren't that tough to interpret these days, thanks to the internet's web of information. With this, it is easy for any beginner to read comic books.