Many companies offer ebooks, audiobooks, videos, and other digital content for children to read, learn, and grow their minds. The best part is accessing reading and educational material from anywhere. So, even if you are on a road trip, you can access books online to download and keep your child happy during those long drives.
Here are 5 of the best places to read children's books online:
OverDrive
Amazon
Oxford Owl
Epic
Storyline Online
There are excellent websites that share collections of books for your child to read, and this article will discuss some of the best places to get children's books for free or through a subscription service.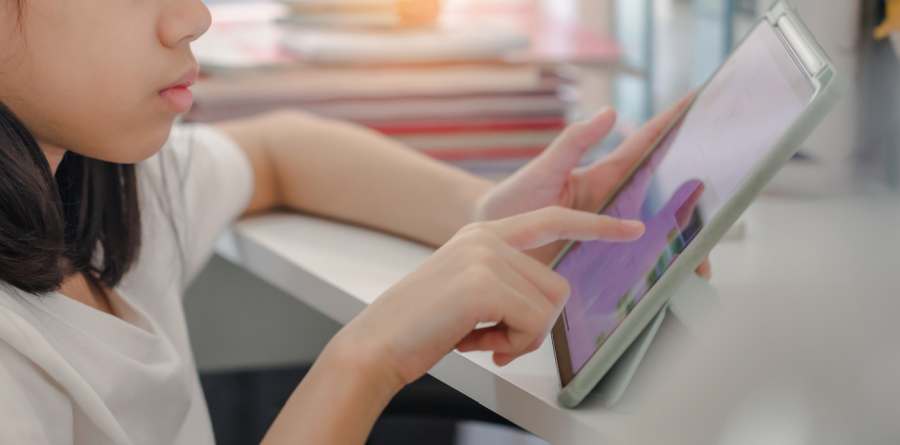 This blog post contains affiliate links
1. OverDrive
OverDrive provides digital content for all ages and partners with libraries, schools, and businesses worldwide to share easy access to reading and learning. OverDrive was founded in 1986, but since launching its digital journey in 2000, it has become the largest provider of digital content globally. This company also offers highly-rated apps to reach its users.
In March of 2021, RBDigital merged with OverDrive, as did the company's content collection.
OverDrive also designed the Libby app for public libraries and the Sora app for schools, providing easy access to tons of digital resources for their users and students.  
Libby
If your local library is subscribed to OverDrive, you can use the Libby app to sign on with your library card information. The entire collection from OverDrive is readily attainable through Libby. This app allows people to check out ebooks, audiobooks, and magazines, with the ability to download for offline use.
The Libby app works with Nooks, Kobos, and other e-readers. At this time, the app is unavailable to download for Kindle Fire tablets. If you are a Kindle Fire user, you can access Libbyapp.com through your internet browser for the same experience as the app users. 
Sora
The Sora app is designed to extend your school library digitally and empower students to read and broaden their knowledge. They now have the All Access Comics available, providing material from Disney, Marvel, Star Wars, etc. Comics and books have different ways to build reading comprehension, and since comics use images and dialog, they can help kids
struggling with traditional books.
Ask your child's school if they have access to Sora through OverDrive.
Bonus Tip: As mentioned above, you can use your library card to access reading materials online. Many other websites offer this ability. For example, Hoopla is another online library with a great selection that you can access this way.
With your library card, you will have access to websites that offer ebooks and audiobooks, videos, educational resources, and more. 
There are great online resources for different ages and learning levels to suit your child's needs.
2. Amazon
Amazon has a massive selection of children's ebooks and audiobooks available for free or purchase if you are an Amazon Prime member. You can download them, read them on any device, and even share them with others. You can read books through the Kindle app if you don't have a Kindle e-reader.
First Reads
With an Amazon Prime membership, you also have access to First Reads. With First Reads, each month, you can download one free Kindle book from six books chosen by Amazon's editors, including children's books, with some selections from award-winning and best-selling authors. You also have access to exclusive prices from their book collection.
Prime Reading
As an Amazon Prime member, you automatically benefit from Prime Reading. This feature provides access to a rotating catalog of books to borrow from (up to 10 books at a time). While the selection is less than Kindle Unlimited (more on that below), there is still an abundance of books at your fingertips, including children's books.
You can keep the borrowed books as long as you like or return them and choose other titles to read.
FreeTime Unlimited
Amazon Kids+ (available on Amazon.com), also known as FreeTime Unlimited, is a paid subscription with different membership levels. This is a subscription for kids three to twelve years old, providing access to children's books, movies, educational apps, and more. 
If you preorder a Fire Kids (available on Amazon.com) tablet for ages 3+ or Fire Kids Pro (available on Amazon.com) tablet for ages 6+, you get a free one-year subscription to FreeTime Unlimited. This tablet allows your child to read unlimited books and even has a panel for parents to monitor their progress and activities.
Kindle Unlimited
Amazon's Kindle Unlimited is a paid subscription (about $10 a month) that gives you unlimited reading, listening, and other benefits. You will have access to the entire collection of over 2 million titles with your Kindle Unlimited subscription.
Bonus Tip: Many children's books have pictures, so if you use a basic Kindle e-reader, the images are displayed in black and white. However, you can use the Kindle app on your phone to view the pictures in color. If you have a Kindle Fire or another tablet type, the images will also show in color. 
3. Oxford Owl
Oxford University Press put together the Oxford Owl. This website has a ton of resources to help your child during their learning journey. They focus on ages three to eleven years old, providing fun activities as well as age-appropriate books and learning material. 
Oxford Owl supports parents with guides, advice, tips, and more to make it easier for parents to be a part of their kid's education and growth. 
There is also an educational YouTube channel with 'how to' help.
4. Epic
Epic offers over 40 thousand titles to keep your little one's growing mind busy. This company has an award-winning subscription service that provides a free and paid option. The free subscription allows your little reader one book per day, while the paid option allows complete access to read as much as they want.
Epic also has videos and quizzes to help children learn and grow from anywhere. 
5. Storyline Online
Storyline Online is an award-winning website for children's literacy and is a nonprofit organization that relies entirely on outside funding and donations. This website provides reading, educational material, and videos with celebrities reading children's books with creative visuals for viewers to enjoy. Storyline Online is streamed in classrooms, children's hospitals, and homes around the world.