John Green is much more than a successful New York Times best-selling author of young adult fiction. He creates video content for his "Brotherhood' vlog and an educational channel on YouTube. However, his books were the beginning of a career of fame and acclaim for John Green,
John Green has written seven books to date. His first book, Looking for Alaska, was published in 2005. His latest book, The Anthropocene Reviewed, was published in May of 2021. His books have sold over 24 million copies in 55 languages.
John Green has also published several short stories in anthologies and six novellas and co-authored several works. Through his various pursuits, John Green has garnered an immense fanbase who have dubbed themselves the Nerdfighters. This article will discuss his published works and various charitable projects.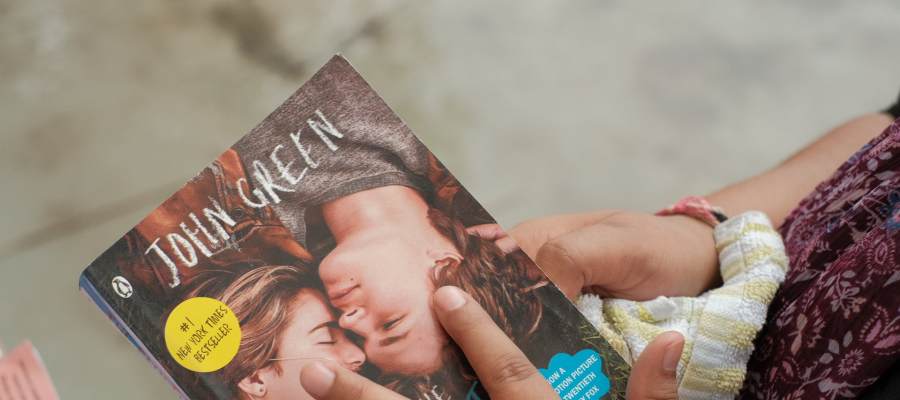 John Green's Award-Winning Books 
Most of John Green's books are critically acclaimed. Below is a list of his published works and the various awards they each received, in publication order, according to John Green's website. 
Looking for Alaska was published in 2005. It was a  recipient of the 2006 Michael L. Printz Award, a special 10th Anniversary edition published in 2015. It is also now a series available on Hulu.
An Abundance of Katherines, published in 2006, was an Honor book for the 2007 Michael L. Printz Award. 
Paper Towns, published in 2008, debuted at the top of the New York Times Bestsellers List. In 2009 it received the 2009 Edgar Award for Best Young Adult Mystery. 20th Century Fox adapted it into a movie in 2015.
Will Grayson, Will Grayson was published in 2010. It debuted at #3 on the New York Times Bestsellers List. 
The Fault in Our Stars, published in 2012, debuted at #1 on the New York Times Bestsellers List. Time Magazine chose it as the #1 Fiction book in 2012. It was also the best-selling, highest-grossing book of 2012. 20th Century Fox also adapted The Fault in Our Stars in 2014. 
Turtles All The Way Down was published in 2017.
The Anthropocene Reviewed, published in 2021, talks about the human impact on the current geological age.
John Green's Most Successful Book, The Fault in Our Stars
John Green's most famous work is The Fault in Our Stars. This young adult fiction traces the romantic life of Hazel Grace Lancaster, who is diagnosed with terminal cancer. She has accepted her diagnosis, then meets Augustus Waters. The book follows their romance. 
Goodreads, where the book has received over 4 million ratings, lists the book as 4.16 out of 5 stars from readers. 
In 2014 "The Fault in Our Stars" was adapted into a movie that grossed over $300 million worldwide. The poignant story, inspired by John Green's work ministering to children diagnosed with terminal cancer and his true-life interaction with a young woman named Esther, received a rating of 85% from audiences on Rotten Tomatoes. 
This book was so popular that John Green wrote an excerpt from the fictional book, An Imperial Affliction, that Augustus gives Hazel in The Fault in Our Stars.  
Other Publications
John Green is prolific. In addition to his books, he has also published novellas, stories in anthologies, a collection of his own short stories, and been part of many collaborations. 
Here's a list of John Green's other works:
Twice Told was published in 2006. John Green wrote "The Approximate Cost of Loving Caroline." 
Let It Snow was published in 2008. John Green's story was called "A Cheertastic Christmas Miracle." In 2019, Netflix adapted the story into a film.
Geektastic: Stories from the Nerd Herd was published in 2009. This collection included John Green's story, "Freak the Geek."
This Is Not Tom was published in 2009. It is a story hidden within riddles. John Green wrote it in conjunction with his brother, Hank Green.
What You Wish For: A Book For Darfur was published in 2011. John Green's contribution was "Reasons."
Double On-Call was published in 2013. This book was only available for those that donated to Project for Awesome 2012.
Who Done It? was published in 2013. John Green is a suspect in the fictional murder of an awful man. He gives first-person accounts of his interactions with this fictional character.
21 Proms was published in 2014. "The Great American Morp" was John Green's contribution.
"An Imperial Affliction" is six published pages from the fictional book of the same name that Augustus Waters gives Hazel Grace in The Fault in Our Stars. The pages were released in 2014 for Project for Awesome 2014.
This Star Won't Go Out: The Life and Words of Esther Grace Earl was published in 2014. Esther was the girl who inspired The Fault in Our Stars. John Green wrote the introduction to this collection of essays. 
Shorts & Briefs was published in 2017. It is an anthology of John Green's short stories. 
Podcasts
Not only has John Green published multiple books, but he also produces two different podcasts, The Anthropocene Reviewed and Dear Hank and John. He hosts these podcasts with his brother, Hank Green. 
The Anthropocene Reviewed talks about human impact during the current geological age. Dear Hank and John is a comedic take on everything in between life, death, and the universe. 
Together the Green Brothers also produce nine channels of content on YouTube under their vlogbrothers handle. They have over 3 million subscribers. They tackle everything from science to history. You can watch their videos on this channel:
https://www.youtube.com/vlogbrothers
John Green's Projects and Charitable Works
John Green founded Project for Awesome, a yearly meeting where content creators get together to raise money and awareness for charitable causes. You can find information on the Project's website. John Green and his fandom also support an English soccer (football) team. Through half the proceeds of the vlogbrothers channels, John and his brother Hank support The Foundation to Decrease World Suck. The other half of the funds support new content creators.  
Conclusion
John Green is a multi-talented, prolific, young-adult author who has published eight books, several short stories, and six novellas. His literature moves and enchants his readers. He and his brother will continue their philanthropic pursuits and educational content on YouTube through their vlogbrothers channels.