Animals have played a significant role in children's literature for the longest time. And giraffes are one of those animals that draw kids in with their extreme height, dark tongues, and peculiar features. The tallest mammal in the world makes a story more captivating than a human character could.
Here are 9 of the best kids' books about giraffes: 
Giraffes Can't Dance by Giles Andreae.
A Giraffe and a Half by Shel Silverstein.
The Giraffe Who Found Its Spots by Adison Books.
Giraffe Problems by Jory John.
The White Giraffe by Lauren St. John.
Abigail by Catherine Rayner.
Giraffes Can't Sing by Michael Gordon.
I Can't Reach It! By Jana Buchmann.
The Giraffe and the Pelly and Me by Roald Dahl.
In this article, I'll review each of these giraffe books, so you can choose the most suitable ones to enchant your child and teach them meaningful lessons.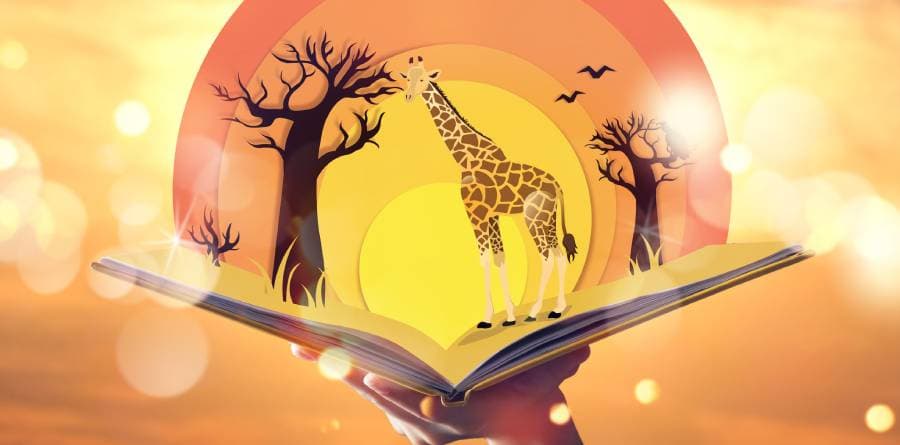 This blog post contains affiliate links
Giraffes Can't Dance is the heart-warming story of Gerald the giraffe, whose only wish is to dance. But of course, this isn't possible with his skinny legs and long neck. 
However, what follows is a beautiful tale of friendship, kindness, encouragement, and self-belief, when Gerald finds a true friend who believes in him and shows him that all he needs is a different tune to dance to.
Why we recommend this book:
It teaches kids that we are all unique and have our own strengths and abilities.
The book's message introduces kids to the concept of peer pressure and stereotypes so that they can become more aware of it in their own lives.
They will also learn to overcome doubt and boost their self-esteem, just like Gerald does. Furthermore, this teaches them to be more accepting of themselves and others.
Giraffes Can't Dance is full of inspiring words and vibrant illustrations that will capture a child's attention and show them the power of dreams.
The book is suitable for ages 1-3 or kindergarten grade level. However, older children will appreciate the positive themes too.
Giraffes Can't Dance is also available as a board book on Amazon.com. Board books are designed for younger audiences, as they typically have brighter colors and larger text, which keeps kids engaged in the story.
A Giraffe and a Half is a poetry picture book filled with hilarious rhymes and iconic line drawing illustrations. The book is about a giraffe who accumulates ridiculous things, like glue on his shoe and a bee on his knee– only to lose them again.
The highly-rated poetry picture book was published in 1964 and continues to be a classic read amongst young and old readers. The writing captures Shel Silverstein's humor and will leave you in stitches till the end.
Why we recommend this book:
It is perfect for young audiences as it is light-hearted, and the illustrations will capture their attention throughout the book.
Parents have said that the rhymes in the book are tongue twisters and provide a challenge for the kids to read, which helps them improve their articulation.
The book will make kids and parents giggle, which is wonderful for bonding and putting a smile on everyone's face. 
According to DOGO Books, A Giraffe and a Half is suitable for kids in grades 2-3. However, young and old readers will chuckle at this rhyming book.
The Giraffe Who Found Its Spots is a story about self-discovery and self-acceptance. 
A young giraffe visits different animals but struggles to fit into their groups. The giraffe tries to find common ground with the monkeys and shows them that he also has a tail. He shows the cheetahs that he can run as fast as them. And he tries to stand on one leg like the flamingos.
However, they all shun him. But later, the giraffe realizes that he is unique and shouldn't have to change himself to fit in.
Why we recommend this book:
This cute story has a beautiful message that will teach kids to accept who they are and others regardless of their differences.
It educates kids to be themselves and not succumb to peer pressure or try to fit in with others.
The characters are relatable to anyone who has ever been shunned by their peers.
The illustrations are fun and vibrant and easily grasp a child's attention.
The story and illustrations highlight a variety of wild animals, including elephants, rhinos, hyenas, flamingos, etc., which will make kids excited and want to read more.
The book has a reading age of 1-5 years.
Giraffe Problems by Jory John and illustrator Lane Smith centers on Edward, a giraffe who's insecure about his appearance. 
Edward hates his long neck and finds various problems with it, from being too long to being bendy, stretchy, and even too patterned. He tries to camouflage it by dressing it up and hiding behind bushes. However, he can't escape it and frequently compares himself to other animals.
But then Edward meets a turtle, who shows him that his neck is valuable and has its own advantages. Edward eventually starts to feel more confident about himself.
Why we recommend this book:
The book portrays a message that even adults need to understand – stop comparing yourself to others and start loving who you are.
Kids will love this book because a serious theme is explored in a humorous and eye-catching way.
They will learn to stop making comparisons between themselves and other kids, and will appreciate their bodies, abilities, and talents for what they are.
Giraffe Problems is perfect for kids aged 3-7 years old. 
The White Giraffe is a kids' favorite due to its suspense, exploration of Africa, and hints of fantasy.
The story revolves around Martine, whose house in England burns down. She later moves to South Africa to stay with her grandmother on a game reserve.
While she's on the game reserve, she hears stories about a white giraffe. She becomes fascinated, but her grandmother insists the white giraffe is a myth until Martine sees Jemmy, the white giraffe, in the flesh. 
However, it's a mystery why everyone tries to hide Jemmy.
Later, it becomes apparent that this is due to the rampant wildlife poaching in the area. Martine also discovers she is blessed with the power of healing and that her purpose is to save her new best friend, the rare white giraffe.
Why we recommend this book:
The White Giraffe is a hit amongst kids and adults due to the imaginative storytelling, African adventures, and a rare, mystical animal.
There are many great messages in this book for kids, such as respecting wildlife, being kind to all beings, respecting your elders, being brave, coping with tragedy, and adapting to new environments.
The book is suitable for children aged nine and above due to its long length, complex language, and themes.
The White Giraffe is also the first book in the Animal Healer series, and if you enjoy this one, you'll love the rest of the series. 
Abigail will be a forever favorite if you have giraffe lovers in your family.
The story is about Abigail, a giraffe who loves to count. Unfortunately, her efforts to count ladybug's spots, the leaves on a tree, and cheetah's spots, are all futile, given the constant movement of everyone and everything around her. However, her kind-hearted friends come up with a better plan for her.
Why we recommend this book:
The story is supported by humorous storytelling that is sure to grab a child's attention till the end.
Furthermore, award-winning author-illustrator Catherine Rayner brings her signature watercolor style to this picture book, which creates a charming and gorgeous effect to engage kids.
There are numerous lessons for kids, such as patience, perseverance, and forming good friendships.
Children will learn never to give up even when challenges and obstacles arise, just like Abigail did.
Abigail is well-loved by parents across the globe because it teaches kids to count, in addition to its wonderful messages.
This book is perfect for children aged 3-7 years. 
It seems like giraffes are the perfect protagonists for stories about being different. Because Giraffes Can't Sing also focuses on the same theme of accepting yourself as you are.
Our hero is a giraffe who loves to sing karaoke. However, he is bullied by other animals because he looks so different, with his long neck, extreme height, and strange ears. 
But one night, he decides to sing for the other animals even if they judge him. And all the animals become amazed by his powerful voice. His ''long neck'' helps him produce the most incredible sound.
Why we recommend this book:
This sweet read teaches us to accept ourselves and that it's okay to be different.
Children will also learn to be brave, like the giraffe, who gets up to sing in front of animals who have bullied him before.
Another good message is perseverance. The giraffe tries to sing even though this hasn't been done before. He still tries even though he might fail.
The book has fascinating illustrations that are sure to captivate a young audience.
Parents have also said that the story is easy to follow, and there's never a dull moment. It engages their kids right from the get-go.
Giraffes Can't Sing is perfect for audiences aged 0-3 years. 
I Can't Reach It! Is another inspirational giraffe book for young readers.
Moyo is the heroine of our novel, and she's a short giraffe that faces numerous challenges while living in the Savanna, and struggles even to reach the leaves of a tree.
However, with encouragement from her mom and a healthy dose of self-confidence, she discovers that anything is possible if you believe in yourself. 
She uses creativity, asks for help, and constantly practices to reach new heights. Eventually, Moyo is able to accomplish what she couldn't before.
Why we recommend this book:
It captivates children with gorgeous illustrations and relatable, cheerful characters.
It teaches powerful lessons about perseverance, self-esteem, and never giving up.
The book can be utilized in many ways, from bedtime stories to storytelling sessions with teachers, group readings, etc.
The book provides fascinating facts about nature and teaches children about life in the African Savanna.
Nurturing a growth mindset is crucial to succeeding in life, and this book will explain this concept to kids in a light-hearted yet educational way.
It is suitable for children aged 3-6; however, all kids will enjoy this book. 
This is a short story created by the renowned author of Charlie and the Chocolate Factory, Roald Dahl.
The story is about a Giraffe, Pelican, and Monkey who open a ladderless window cleaning company (because you don't need a ladder when you have a giraffe.) They befriend a small boy named Billy who lives in the street near the abandoned building, which houses the giraffe, pelican, and monkey.
Soon, all four meet a Duke who has been looking for good window cleaners for 40 years, so he is excited when he meets this magical group of animals.
The Giraffe and the Pelly and Me is a sweet short story that focuses on easy friendships, adventure, and being passionate about what you do.
Why we recommend this book for kids:
The story is full of delightful rhymes and songs that will engage kids.
It is written in Roald Dahl's whimsical way with characters that are easy to believe in.
It teaches kids a great lesson that we all have talents we can use to help others.
The four friends experience wild adventures that are bound to capture children's attention and take them on a journey.
It is a short read but isn't short on inspiration.
This book is perfect for children aged 8-12 years old.