Agatha Christie published "The Mysterious Affair at Styles" in 1920, launching one of the most celebrated literary careers of all time. Christie's books are translated into over 100 languages and have sold over 2 billion copies, with the Guinness Book of World Records naming her the best-selling fiction writer of all time. With sales this staggering, we have to wonder how many books Christie wrote. 
Between 1920 and her death in 1976, Christie published 102 books. These books included 66 mystery novels, for which she was well-known, but also some poetry, short story collections, and non-fiction, as well.
We've examined Christie's career and broken down the many novels, short story collections, and poetry volumes the author published. Christie's beloved characters appeared and returned in many of her stories. Let's take a look at the various editions that make up Christie's impressive body of work.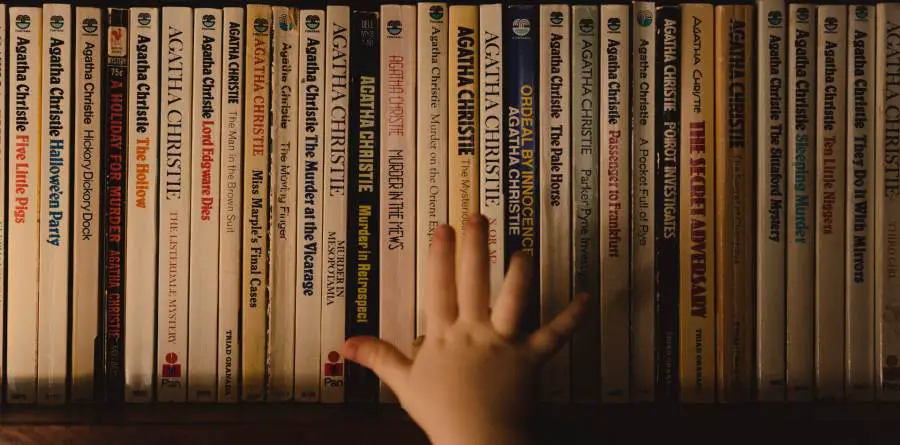 Novels
Widely considered the queen of crime, Agatha Christie wrote detective novels still beloved by readers today. In total, the author penned 66 mystery novels. Christie seldom used a character once; her detectives spanned series, sometimes crossing into each others' worlds. Her detectives inspired movies, radio, and television shows. Christie's sleuths remain iconic today. 
Hercule Poirot
Her most popular character, Hercule Poirot, appeared in 33 novels, two plays, and over 50 short stories between 1920 and 1975. Poirot has appeared in almost every medium, including: 
Radio
Film and television
Stage
Video games
He even made his way into anime!
Poirot is a Belgian detective with a celebrated mustache who is clever, urbane, and witty. He first appeared in "The Mysterious Affair at Styles" and last appeared in "Curtain."
Enormously popular with a massive cultural impact, Poirot received a front-page obituary in the New York Times-the only fictional character to ever claim this distinction.
As deeply as the public loved Poirot, Agatha Christie hated him. She continued writing Poirot as a reaction to his enormous popularity; she felt she owed it to the people who adored him.
Certain collaborators frequently appeared in different Poirot stories, including: 
Captain Arthur Hastings
Ariadne Oliver
Felicity Lemon
Chief Inspector James Harold Japp
A wide array of impressive actors have portrayed Poirot: 
Austin Trevor
John Moffatt
Albert Finney
Peter Ustinov
Ian Holm
Tony Randall
Alfred Molina
Orson Welles
David Suchet
Kenneth Brannagh
John Malkovich 
Miss Marple
Agatha Christie wrote Miss Marple stories for 41 years.
Jane Marple is the extremely popular spinster detective Christide created to honor old maids. 
She's never been married and lives independently. Marple uses her intellect and excellent recall to solve mysteries that elude the authorities. 
Marple appears in 12 novels and 20 short stories.
The character has been adapted in movies, television, radio, stage plays, anime, and manga.
Marple first appeared in "The Tuesday Night Club" and last appeared in "Sleeping Murder."
The iconic character has been portrayed by:
Gracie Fields
Margaret Rutherford
Angela Lansbury
Dulcie Gray
Helen Hayes
Ita Ever
Joan Hickson
Geraldine McEwan
June Whitfield
Julia McKenzie
Renee Michels
Julie Cox
Miss Marple's books don't adhere to any specific chronology; readers can read the volumes in isolation or in whatever order they choose.  
Thomas and Prudence Beresford
Thomas and Prudence, or Tommy and Tuppence, appear in five Agatha Christie books: four novels and one short story collection.
The married couple complements each other. Tommy isn't terribly smart or imaginative but values evidence and hard, objective truth. Tuppence is creative and charming. She's brilliant and provides vision to the partnership, while Tommy keeps her grounded and leveled.
The couple aged in real-time, with the external world. Tommy and Tuppence are in their 20s during the first novel, published in 1922, and their 70's by the final book, released in 1973.
Tommy and Tuppence have three children: twins and an adopted daughter. 
The pair features in: 
The Secret Adversary
Partners in Crime
N or M?
By the Pricking of My Thumbs
Postern of Fate
Tommy and Tuppence have been adapted for film, radio, and television.
Many actors have portrayed the sleuthing couple, including: 
Richard Attenborough and Sheila Sim
James Warwick and Francesca Annis
Andre Dussollier and Catherine Frot
Anthony Andrews and Greta Scacchi
David Walliams and Jessica Raine 
Superintendent Battle
Superintendent Battle isn't Christie's most famous character, but he still inspired five novels:
The Secret of Chimneys
The Seven Dials Mystery
Cards on the Table
Murder is Easy
Towards Zero
The policeman exists within the same universe as Hercule Poirot– the two even worked together in "Cards on the Table."
Battle is a competent and clever police officer. He isn't as singularly brilliant as savant detectives like Poirot or Sherlock Holmes, but Battle is capable and intelligent.
When he's not sleuthing, Battle is a family man, married with five children. 
Short Story Collections
Christie's body of short stories is massive by any standard. She published 165 stories, collected in 14 United States volumes. 
Many of Christie's usual suspects appear in her short stories, including: 
Poirot
Marple 
Tommy and Tuppence 
Plays
Agatha Christie enjoyed writing plays more than novels. She preferred the focus on dialogue without the complications of describing action and location.
Christie wrote 27 plays in total, some of the most celebrated of which are:
Black Coffee
And Then There Were None
Appointment with Death
The Hollow
The Mousetrap
Witness for the Prosecution
Spider's Web
Christie is the first female playwright to have three simultaneously performed plays on the West End.
"The Mousetrap" currently holds the record as the longest-running play in the world. The show opened in 1952; over ten million people have seen it.
Non-Fiction Works
The prolific Christie wrote three non-fiction books.
"Come, Tell Me How You Live" was a memoir about Christie's experience working on an archaeological dig with her spouse, Max Mallowan.
"The Grand Tour: Around the World with the Queen of Mystery" is an epistolary work. The book is a collection of letters from her 1922 Grand Tour of the British Empire–South Africa, Australia, New Zealand, and Canada.
"Agatha Christie: An Autobiography" was published posthumously in 1977. The book won an Edgar Award.
Poetry Books
Christie wasn't limited to long-form fiction or detective narratives. The author also published two books of poetry. "The Road of Dreams," published in 1924, includes 26 poems Christie composed as a young woman. The verses cover many subjects, from nature to war to Norse mythology.
Christie released the less creatively named "Poems" in 1973. "Poems" includes "The Road of Dreams" and another set of previously unpublished poetry. Much of "Poems" is nostalgic in nature, focusing on Christie's childhood memories and passion for nature.  
Books Published as Mary Westmacott
Christie published six romance novels between 1930 and 1956 under the name Mary Westmacott.
The pseudonym is a fusion of Christie's middle name and her distant relations. 
The Mary Westmacott books are the best-reviewed of Christie's career.
Agatha Christie hid the fact that she was Mary Westmacott for nearly 20 years. A journalist exposed Christie as Westmacott in 1949.
The Mary Westmacott books are:
The Giant's Bread
Unfinished Portrait
Absent in the Spring
The Rose and the Yew Tree
A Daughter's a Daughter
The Burden
Star Over Bethlehem
"Star Over Bethlehem" is Christie's only children's book. The volume collects six stories, five poems, and features illustrations by Elise Wrigley. 
The book is Christie's loving consideration of religion and spirituality. "Star Over Bethlehem" is Christie's passion project; she enjoyed writing it immensely. The author published her exploration of Christianity in 1965.  
Christie released "Star Over Bethlehem" using the name Agatha Christie Mallowan-her husband's last name.  
Conclusion
Agatha Christie's cultural impact can't be overstated. The author created indelible characters, detectives who still inspire filmmakers and creators today. However, Christie had a career beyond her queen of crime status, covering poetry, non-fiction, and even children's literature.