Unicorns are magical, mythical creatures that have taken over a large part of children's books, television, toys, clothing, and games. Kids of all ages are fascinated and intrigued by unicorns, and fortunately, there's no shortage of unicorn books for kids of all ages, from babies to preteens. However, finding the right unicorn book for your young reader can often feel overwhelming.
Here are nine wonderful unicorn books for children:
How to Catch a Unicorn
Unicorn Academy
It's Okay to be a Unicorn!
Grumpycorn
Unicorn (and Horse)
The Secret Lives of Unicorns (The Secret Lives Series)
The Magical Unicorn Society Official Boxed Set
The Princess and the Unicorn
Phoebe and Her Unicorn
Board books, picture books, chapter books, and encyclopedias–there's a unicorn book for every young reader. The list contains various unicorn books to suit unicorn lovers of all ages. Keep reading to discover more about these wonderful unicorn books for children.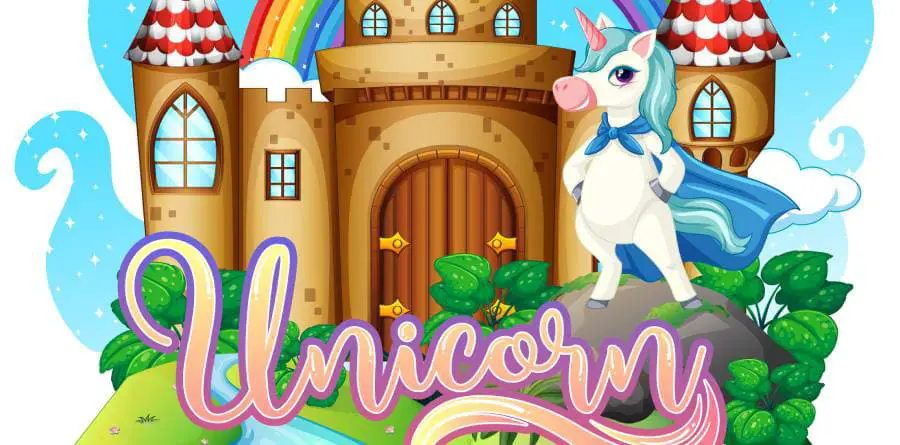 This blog post contains affiliate links
How to Catch a Unicorn by Adam Wallace and illustrated by Andy Elkerton is a #1 New York Times Best Seller. It's part of the How To Catch series, which includes how to catch a mermaid, dinosaur, tooth fairy, monster, and more creatures. This picture book is perfect for children aged 4-10 years old and features colorful, realistic, and lifelike illustrations with diverse characters.
How to Catch a Unicorn is suitable for both girls and boys and is a fun book with appropriate language that will help expand and strengthen children's vocabulary. It has a hardback cover, making it resistant to everyday wear and tear, and the glitter inside is transfer-resistant so that it won't make a mess.
How to Catch a Unicorn is not the type of unicorn book for those looking for pinks, frills, purples, sparkles, and fairytales. However, it does have a clever storyline and detailed illustrations depicting everyday people, objects, and places. It's a great book to expose your children to the authentic world around them while maintaining a kid-friendly theme and a little unicorn magic. Best of all, the young readers might learn precisely how to catch a unicorn.
Unicorn Academy is a chapter book for children aged 6-9 written by Julie Sykes and illustrated by Lucy Truman. In this best-selling book series, everyone is paired with their own unicorn. Unicorn Academy is a perfect series for parents who want to keep their kids reading. With 12 books so far, the unicorn adventures keep coming. You can purchase the books in hardback, paperback, e-book, and audiobook versions to suit your young reader's needs.
Unicorn Academy features an enriching storyline where girls who live on Unicorn Island and attend Unicorn Academy are matched with their own unicorns. Each unicorn has unique magical powers that enable some to fly, make fire, or make themselves invisible. However, girls at Unicorn Academy will only discover their unicorn's magical abilities after bonding and spending time with them.
In every book, young readers will discover characters working together, prizing friendships, and treasuring their special unicorn friends. With unique plots and storylines, no book in the Unicorn Academy series is the same. Reviews describe this book as "descriptive, engaging," and having appropriate language for kids.
Young readers will enjoy this unique story about a unicorn trying to fit in. It's Okay to Be a Unicorn! by Jason Tharp is an engaging picture book that teaches kids the value of being themselves. This 40-page book features colorful cartoon-style illustrations in relaxing pastels that will engage young children.
In It's Okay to be a Unicorn!, Cornelius J. Sparksteed lives in a town full of horses called Hoofington. He's famous for the unique hats he always wears. However, his hats hide a secret about Cornelius that makes him stand out from all the other horses in Hoofington: He's a unicorn.
Cornelius' favorite holiday, Hoofapalooza, gives him the opportunity to let his true identity shine, but will he reveal his unique unicorn identity? Young readers will find out in this magical and inspiring story.
It's Okay to be a Unicorn! is for kids aged 3-6 years old. It promotes self-esteem and confidence, and it has age-appropriate yet engaging verbiage to help children expand their vocabularies and learn new words. The book features familiar characters but gives them a little unicorn magic. With names like Neighbraham Lincoln, reading this book will be a fun treat for kids.
Grumpycorn by Sarah McIntyre is a 32-page scholastic book for kids aged preschool through kindergarten. The book follows Unicorn, a unicorn set on writing a fantastic story. However, he has one problem: he doesn't know what to write.
Will the writer's block turn Unicorn into a grumpycorn? Grumpycorn promotes friendship and teamwork to create a fun and engaging story for kids. With attractive illustrations and colorful designs, young readers will enjoy reading Unicorn's journey.
This book for kids aged 3-5 features a dynamic design that will engage kids. Grumpycorn features a wide range of pastel colors used together to create a colorful explosion on the page.
With lots of fun, unique creatures, and pop-out text, young readers are bound to notice something new in each page and might enjoy reading this book again and again. Grumpycorn is available in hardback or paperback.
Unicorn (And Horse) by David W. Miles and illustrated by Hollie Mengert is a witty picture book about a unicorn and a horse with opposite personalities who share the same pen. Written for kids ages 5-8, adults will enjoy reading this funny picture book too.
Unicorn is a colorful, vibrant, and good-looking unicorn with a big smile and a larger-than-life personality who loves to dance and eat pink cupcakes for every meal. Horse is somewhat of the opposite. He's plain, grumpy, doesn't love to dance, and eats hay for his meals.
When robbers capture Unicorn with plans to use him in the circus, Horse is faced with an important decision. With themes of self-acceptance and jealousy, Horse and kids alike will learn a valuable lesson.
Unicorn (And Horse) features simple yet colorful and unique illustrations. With muted pastels, Unicorn (And Horse) is an engaging picture book that will keep children interested in reading without overstimulating them with too many colors and designs.
Its simple design highlights the expressive illustrations, showcasing Unicorn and Horse's distinct differences and allowing kids to focus on the characters and words, helping them understand the story better. Unicorn (And Horse) is a comical and engaging book for both girls and boys.
The Secret Lives of Unicorns by Temisa Seraphini and illustrated by Sophie Robin is a perfect book for any school-aged unicorn-lover. Essentially an encyclopedia on all things unicorn, the Secret Lives of Unicorns reads like a nonfiction book. It breaks down unicorn evolution, magic, horns, the various species of unicorns, and much more.
Children aged 7-10 will enjoy learning about the history of unicorns in this unique and compelling book. The Secret Lives of Unicorns features impressive illustrations that are perfect for older children. With fascinating facts, fun infographics, and relatively realistic designs, the information in this book is easy to digest and enjoyable to read.
Kids can learn about the first unicorns, their life cycle, how to track and communicate with them, and more. With 64 pages of all things unicorn, The Secret Life of Unicorns will enthrall your unicorn lover with this wonderful and dynamic unicorn book. This book is suitable for both girls and boys.
The Magical Unicorn Society features The Magical Unicorn Society Official Handbook and The Magical Unicorn Society: A Brief History of Unicorns. You can purchase these books by Selwyn E. Phipps and multiple illustrators together in a box set for your young unicorn lover.
Similar to The Secret Lives of Unicorns, The Magical Unicorn Society is a guide to all things unicorn, with a distinctly feminine touch. These books are excellent for children in grades 4-6 and feature gorgeous, vibrant illustrations that showcase the beauty and diversity of unicorns.
The Magical Unicorn Society is a group of unicorn lovers from around the world, and the book offers an overview of the society's history and purpose. It will leave readers feeling like they are a member of the elusive club.
The Magical Unicorn Society Official Handbook will give readers a fun overview of everything your unicorn lover wants to know about their favorite animal through one-of-a-kind depictions. They'll learn about their food, unicorn symbology, where unicorns are native, special unicorn myths, and more.
The Magical Unicorn Society: A Brief History of Unicorns gives readers a rundown of the different types of unicorns, which are distinctly different from the types of unicorns identified in The Secret Lives of Unicorns. The book also offers case studies on the different types of unicorns, making it ideal for older unicorn lovers.
The Princess and the Unicorn by A.M. Luzzader and illustrated by Anna M. Clark is a fun, colorful book written for children aged six to eight. Filled with unicorns, frills, fantasy, princesses, and more, The Princess and the Unicorn is ideal for those looking for a traditional fairy tale unicorn book.
This chapter book features fun and straightforward black and white illustrations that make reading more engaging and is perfect for young readers and those transitioning to chapter books. Olivia and Juniper (aged eight and six) are princess sisters who live in the Wildflower Kingdom, a typical fantasy land with dragons, princesses, and unicorns.
Juniper grows jealous when Olivia is finally grown enough to ride unicorns. Juniper is still too small to ride on her own. Join the sisters as Juniper attempts to try to grow up like her big sister in a single afternoon. She might discover that she can be helpful even at her size.
The Princess and the Unicorn is an age-appropriate story with a complete and dynamic plot that children will enjoy. It's written in simple language that is perfect for readers that are new to chapter books and will help expand their vocabulary. The book is relatable to young girls, especially those who have younger siblings, and is well-written from a child's perspective.
Young readers will learn they don't have to try to grow up too fast in this fun fairy tale book full of unicorns, magic, and sisterly love. Reviewers describe The Princess and the Unicorn as one of the best books for young unicorn lovers.
Phoebe and Her Unicorn is an expansive comic book series written by Dana Simpson. The first book in the series was published in 2014, and the 14th book was released in 2021. This popular and long-lasting series is a teacher's pick on Amazon. Parents love the series too because Phoebe is vibrant and full of personality. The book is described as "sweet," "funny," and "girl-centered," a magnificent book for girl unicorn lovers.
The series starts when Phoebe skips a rock across a pond, accidentally hits Marigold in the face, and receives a wish to make Marigold her best friend. The dialogue is witty, funny, and contains new and challenging words that will help expand readers' vocabulary. Phoebe and Her Unicorn follows four characters: Phoebe, her unicorn, Marigold, Dakota, and Max.
Phoebe is a healthy skeptic, and Marigold's positive and uplifting spirit brings a healthy balance to her life. Dakota is Phoebe's frenemy, a concept relatable to both children and adults. Although the two can't seem to get along, Dakota is intrigued by Marigold, which keeps them close. Max is Phoebe's friend who is often playing video games.
Phoebe and Her Unicorn is a wonderful unicorn book with the unique element of being a comic strip with such relatable characters and a magical unicorn presence. The comic strip format helps expand kids' social skills by assisting them in associating body language and faces with the matching dialogue.
Additionally, the book features unique how-tos, such as how to draw Marigold or create your own comic strip. It also includes some fun recipes such as a Unicorn Slumber Party Snack and fun facts about Unicorns.