Children love confections, whether it's candy, chocolate, ice cream, or something else. If your kids are also obsessed with them, there is a good chance they'll like these books that revolve around sweets.
Here are the 9 best kids' books about candy:
Are You Eating Candy Without Me?
Bad Kitty Does Not Like Candy
Curious George Goes to a Chocolate Factory
The Chocolate Touch
Charlie and the Chocolate Factory
Chocolate Fever
The Candymakers
This Book Is Not Good for You
No Monkeys, No Chocolate
Let's take a deeper look at each of these titles, and see what the story is about and why your kids should read them. Please note that all the books mentioned in this article are available on Amazon.com, and you can click on the title to buy them.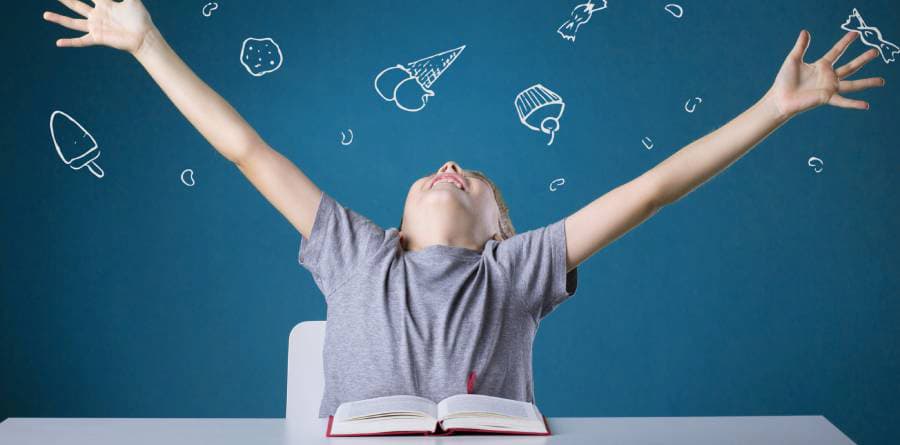 This blog post contains affiliate links
Author: Draga Jenny Malesevic
Illustrator: Charlotte Bruijn
Age Group: 3-6 years
Summary: In this adorable picture book, four kids from three families wonder what adults in their lives are up to when they aren't around the kids. Do they dress up in bright costumes and pretend they are in a play? Do they attend birthday parties and have ice cream and cake? And most importantly, do they have candies without the kids?
Why Your Child Should Read It: Children are curious by nature, and their imaginations have no limits. So, when these four kids wonder what sort of fun caregivers are having without them, it's only normal that they come up with some wild, impossible scenarios. It makes for a hilarious read.
This story is charming, and the illustrations are bright and playful. Please read this book with your little ones; it'll put a smile on their face and yours. And, while you're at it, assure them that you think about them even when they aren't around, and you don't have candy without them.
Author: Nick Bruel
Age Group: 2-5 years
Summary: It's time for dinner, and Bad Kitty is hungry. But, she doesn't want her regular food, fish, beef, or anything else for that matter. She wants candy. 
However, she doesn't get candy because it's not good for her. An angry Kitty rebels, and eats all the candy. Sadly, the candy is sticky, and Kitty's mouth gets stuck. She has to brush her teeth. 
Poor Kitty is still hungry, and she realizes that she doesn't like candy any longer. She goes back to eating fish. 
Why Your Child Should Read It: Bad Kitty Does Not Like Candy is a hilarious book that will entertain little kids. The illustrations are bright and eye-catching and appeal to young readers. The story is cute and humorous, and children, as well as parents, can relate to it. Besides, it's a good reminder for the kids why they shouldn't eat too much candy. 
If your little ones like this book, they'll also like other books in the Bad Kitty series. You can get them here. 
Author: Margret Rey, H.A. Rey
Age Group: 4-7 years
Summary: In this issue of Curious George, George and the Man in the Yellow Hat visit a chocolate factory. The Man in the Yellow Hat leaves George alone and goes to buy his favorite chocolate.
Meanwhile, George starts roaming around the factory and, in his typical fashion, causes mischief even without realizing it. Unknowingly, he speeds up the conveyor belt, and chocolate begins to pile up at the end of the belt. However, George helps the worker clean up while he also enjoys banana cream chocolates at the same time.
Why Your Child Should Read It: The Curious George series is a big hit among little children, and this book is one of the most popular ones in the series. The reason is quite simple. Kids love chocolate and monkeys. What do they love even more? Of course, a monkey at a chocolate factory.
This book is a delightful read that teaches children that they should help clean up the messes they have created.
Author: Patrick Skene Catling
Illustrator: Margot Apple
Age Group: 8-12 years
Summary: John Midas is a young boy who is obsessed with chocolate. However, he is forced to eat healthy food due to his bad health.
One day, John finds a coin, and he uses it to buy chocolate. John doesn't know that it has magical power, and now he can turn anything he touches into chocolate.
The next day, everything John eats tastes like chocolate. He is happy at first, but soon he realizes the downside of his power. When John accidentally turns his mother into a chocolate statue, he regrets having this power. The rest of the story is about John's journey to fix the mess he's made with his new "power."
Why Your Child Should Read It: The Chocolate Touch is a funny and entertaining read that keeps the reader engaged. And, it offers your little ones a valuable lesson, i.e., too much of a good thing is bad.
Kids love it when they can predict what will happen in a story. It keeps them engaged. This book is inspired by the legends of King Midas, and you should tell them the original fable before they start the book. That way, they'll be able to find the parallels between the two stories, and it will keep them hooked.
Author: Roald Dahl
Illustrator: Quentin Blake
Age Group: 8 years old and above
Summary: Charlie Bucket is an eleven-year-old kid who lives with his parents and both sets of grandparents. Charlie's father is the family's only breadwinner, so when he loses his job, the situation turns dire for the entire family.
Willy Wonka is an eccentric chocolatier who runs a chocolate factory in the same town. One day, he declares that he has hidden five Golden Tickets in five Wonka Bars, and the lucky kids who'll find them will get a chance to tour the factory.
Fortunately, Charlie wins a Golden Ticket and gets a chance to tour the factory with four other winners. It turns out to be quite an adventurous trip that changes his life and that of his family forever.
Why Your Child Should Read It: Charlie and the Chocolate Factory is one of the most-read children's books. (See others on the list here.) Also, it has been adapted into movies twice, in 1971 and 2005.
There's a good reason this book is so popular. The story is engaging and amusing, and it holds kids' attention. It also inspires them to be respectful, kind, and polite. This title is an excellent choice if you want your kids to transition from picture books to chapter books.
Roald Dahl also wrote a sequel to this book, and he wanted to write a third book. While he never finished the third part, you can get the second part, Charlie and the Great Glass Elevator, here.
Author: Robert Kimmel Smith
Illustrator: Gioia Fiammenghi
Age Group: 8-12 years
Summary: Like every other protagonist in this list, Henry Green loves chocolate. One day, while Henry is still in school, brown spots begin to appear all over his skin. He is taken to hospital and diagnosed with 'Chocolate Fever.' A scared Henry runs away from the hospital and hitches a ride with a Mac, a truck driver.
Henry wants to go back to his parents and, if possible, find a cure for his condition. However, armed hijackers raid Mac's truck before he can do anything.
Don't feel bad for Henry, though. In the end, he manages to teach a lesson to the hijackers and learns a few himself.
Why Your Child Should Read It: Chocolate Fever offers a crucial lesson to young readers about the importance of moderation in everyday life. As a character in the book tells Henry, "You see, this boy I once knew had to learn a very sad lesson, as all young people must do. Although life is grand, and pleasure is everywhere, we can't have everything we want every time we want it! It's a hard lesson, but it comes in time."
Please note that the book was written in the 1970s, and cultural norms have changed since then. A couple of things mentioned in the books, such as guns and hijacking, might concern some parents. If you aren't okay with that, don't give this book to your kids.
Author: Wendy Mass
Age Group: 8 years old and above
Summary: Four 12-year-olds — Logan, Daisy, Mike, and Philip — get an opportunity to participate in a competition to find the tastiest candy in the country. The tournament starts on a friendly note, and everything is fun and sweet initially.
However, each of these kids has been waiting for this chance for years. Each of them wants to win the competition for deeply personal reasons. Expectedly, things get heated.
The story takes new twists and turns, and new mysteries unfold as the game progresses. In the end, secrets are revealed, the mystery is solved, and the four participants become friends.
Why Your Child Should Read It: The Candymakers is a gripping story that takes young readers on an engrossing journey. The book is divided into five parts, and they are told from a different point of view each time. With each perspective, readers learn something new.
This book shows kids that different people can interpret the same situation differently. It also teaches them that usually, they don't know what's happening in others' lives; hence, they should refrain from making assumptions until they know the entire truth.
If your kids like this book, you can introduce them to part two of this series, The Candymakers and the Great Chocolate Chase.
Author: Pseudonymous Bosch
Age Group: 8 years old and above
Summary: This book is the third part of The Secret series, which features Max-Ernest, Yo-Yoji, and Cass as the protagonists. In this story, the trio attempts to find Cass's abducted mother.
The kidnapper is famous chef Señor Hugo. He is a member of Midnight Sun, a society whose goal is to find the secret to being immortal. He demands the legendary Tuning Fork as ransom, as he is under the impression it can help him and other members of Midnight Sun live forever.
The rest of the story chronicles the trio's journey to find the magical instrument and free Cass's mom and others from the hold of Midnight Sun.
Why Your Child Should Read It: A witty yet thrilling book about spy kids and a plot that involves chocolate should be a good enough reason to convince your kids to read this book. Add this story's strange but magical world and the author's peculiar way of storytelling, and this book is unmissable.
There's a good chance that your kids won't want this book to end. While that's not possible, you can get other books in the series here; all of which are as good a read as this one.
Author: Melissa Stewart and Allen Young
Illustrator: Nicole Wong
Age Group: 8 years and above
Summary: So, your kids love chocolate. But do they know where chocolate comes from or how it's made?
Well, chocolate comes from cocoa trees. However, a lot needs to go right so that these trees can survive and your kids can have their favorite food: chocolate. This fascinating non-fiction book describes that process in detail.
Why Your Child Should Read It: This book tells the story of cocoa trees and shows that everything in our ecosystem is interdependent. And it does so in a way that makes science exciting and accessible. The illustrations are scientifically accurate and support the text well.
Two little bookworms appear on the corner of every page and make funny commentary. It adds humor to the story and enhances the experience of the reader. This book is a must-read for anyone who loves chocolate, science, or both.