Nowadays, the digital world just keeps on getting better. You can access children's books on Kindle now. This way, you don't need to bring a bulk of books during a road trip or a long vacation with other kids. All you need to do is bring a Kindle and start reading to your daughter or son before their bedtime, or hand them the Kindle so they can read to themselves.
Children's books on Kindle do have pictures. It looks just like a normal children's book but, of course, digitally. You can have books that are free and have them renewed when your child really likes the book.
As parents, you don't need to carry a lot of books wherever you and your child goes. In this article, I will talk about if children's books on Kindle have pictures. I will also talk about whether all children's books have pictures and what is the children's book on Kindle with pictures.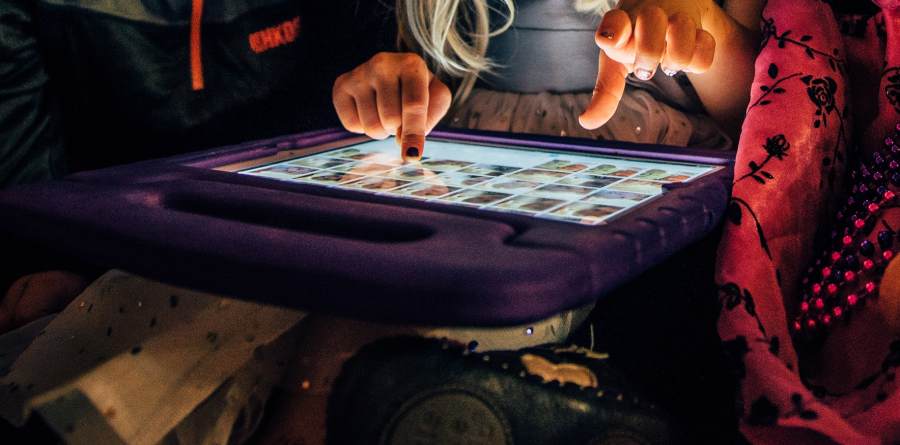 This blog post contains affiliate links
Do Children's Books on Kindle Have Pictures?
The Kindle for Kids is an e-reader where you can find your children's favorite books. Unlike the Amazon Fire Kids Edition, it doesn't have videos, apps, games, ads, or messages. The best thing about the Kindle for Kids is it doesn't have any ads, so there wouldn't be any distraction when you read to your child or when they are ready by themselves.
You also don't have to worry about kids accessing apps or videos that are not meant for them to access. Like I've mentioned above, you can get different books for free, and when it is paid, you can renew the payment so that your child can reread it.
With the year of Amazon FreeTime Unlimited, your children can have access to the picture books on the Kindle. They can even listen to books or read them themselves. Aside from reading and listening, with the Amazon FreeTime Unlimited, they can watch videos of the book and listen to audiobooks through an Echo or Echo Dot.
If you are looking to purchase the Kindle for Kids, it costs $109.99. With this price, you can access any picture books that your kids like on Kindle.
Do All Children's Books Have Pictures?
People may think that all children's books have pictures, but children's books cover a vast area. Having said this, not all children's books have pictures because there are books that are called picture books, chapter books, novels, graphic novels, poetry collections, anthologies, and so much more. However, most children's books do have pictures.
Pictures on books are an important part of children's reading process. The pictures are usually this type of format marks the first step in introducing a child to reading books. It is typically the start of language development for many children.
When reading picture books provides literacy to young readers that are boosting beginner-level vocabulary skills. It introduces them to sentence structure and developing story analysis. When children read through picture books during storytime at home, they can practice sounding out the language while adults introduce and explain new and interesting words.
Picture books also help children understand what they are reading, allowing new readers to analyze the entire story. It also increases the engagement between you and your child. It gives young readers confidence and will enable them to talk about what they see on a particular page.
Lastly, reading picture books is fun! It makes the reading experience fun for the children. Reading, on the first experience, can be a chore when it comes to children. With the pictures on the books, it will make reading appear to be fun rather than work.
Best Children's Books on Kindle
There are a lot of children's books that you can buy on Kindle that your children will enjoy. I've listed children's books that are best for reading development and bedtime stories that your children will enjoy.
The Bad Seed
The Bad Seed offers an excellent lesson to children, saying that it is hard to be good when you are used to being bad. However, just like a seed, it will be ready to try being good no matter what. This book is excellent for children who are aged from four to eight and grades Pre-K and three.
Now, this book also comes in series with three more books titled, The Good Egg, The Cool Bean, and The Couch Potato. Each book teaches your children a very good life lesson that they can use when they grow up. You can buy The Bad Seed for $11.14 and get an audiobook for free with your Audible trial.
Pete The Cat and the Missing Cupcake
Pete The Cat and the Missing Cupcake is about Pete the Cat, and his friends are busy baking cupcakes for a party. Also, Pete can't wait to perform with his groovy band. However, some of the cupcakes are missing, and they don't know where it could have gone. In this picture book, Pete and the gang eventually solve the mystery of the missing cupcakes, and they learn that it's cool to be kind.
Ensure to not miss out on this book where it teaches a good lesson to your children. This book is excellent for children ages four to eight and Pre-K to third grade. There are a lot of Pete the Cat adventures in Kindle that you can purchase if your children grow to love this book. Let them follow the Pete the Cat adventure!
You can get Pete the Cat and the Missing Cupcakes for only $7.99 on your Kindle and an audiobook for free with your Audible trial. There is also a video that comes with this book if you want your child to watch it instead of reading it.
The Giving Tree
The Giving Tree was first published 50 years ago, making it a picture book that is great for readers of all ages, offering a touching interpretation of the gift-giving and a serene acceptance of another's capacity to love. This book is a timeless classic that is available for the first time ever in Ebook format.
This book allows young readers and lifelong fans to continue the legacy and love of a household classic that will reach a wider audience since it is finally available in Ebook. The Giving Tree costs $8.54 on Kindle. However, you still want the hardcopy of this timeless book, and it costs $14.04 on Amazon.
Brown Bear, Brown Bear, What Do You See? (Brown Bear and Friends)
This book is about a big happy frog, a plump purple cat, a handsome horse, and a yellow duck that comes across the different pages of this delightful book. When you purchase the Ebook version, you can take advantage of different features. You can "highlight, take notes, and search in the book."
With this edition, page numbers are like the physical edition. It has 27 pages and is great for children who are ages two to five. Also, great for children who are in preschool to kindergarten. However, this book has a large file size, which may take longer to download. The Brown Bear, Brown Bear, What Do You See? (Brown Bear and Friends) costs $8.99 to purchase on your Kindle.
Big Board First 100 Words
For children who are ages one to three, the Big Board First 100 Words is perfect. It features 100 beautiful color photographs that are perfect for learning reading for those who are starting their education process. It includes words and phrases of animals, toys, vehicles, and items that are used for mealtimes, bathtimes, and bedtimes for children.
The Big Board First 100 Words costs $5.99 on Kindle, and you can also get a board book for only $8.08. Teach your children amazing pictures, and let this be your children's first book. It will help them learn the different words that they need to learn for the future.
Peppa Pig: Peppa and the Tooth Fairy
Peppa Pig is the most popular character for children. Now, this story is about the time when Peppa Pig has lost her first tooth. Placing her tooth safely under her pillow, Peppa waits for the Tooth Fairy to arrive. Any children would love this story because who doesn't love the Tooth Fairy when they were kids.
It also includes handy tips from Dr. Elephant, the dentist, and how to look after your teeth. This is just one Peppa Pig book that is part of the Peppa Pig series that only cost $1.99 on Kindle.
Isabella & Cute Bedtime Pals
Isabella & Cute Bedtime Pals is one of the most loved items in our personalized children's books collection. This book for toddlers is a pleasant adventure to your child to see a few lovely cartoon characters!
A very brief question on every other page helps your baby to tell the events of the day shortly. Each of Cute Bedtime Pals Kindle costs only $9.89 on Kindle. Also available in paperback.