Helen Keller was an author, activist, and educator whose writings and advocacy have lasting effects worldwide. She was deaf and blind but learned to communicate using touch, sign language, and Braille. She was an extremely impressive and thoughtful individual, and she considered herself a writer first and foremost. 
Throughout her life, Helen Keller wrote and published a total of 12 books. Her first book, The Story of My Life, was published in 1903, and her last book, The Open Door, was published in 1957. 
In the rest of this article, I'll discuss each of Helen Keller's books in detail. I'll also describe some of her other accomplishments, so you'll have a better understanding of everything Helen Keller was able to do in her life. Keep reading if you're interested in this fascinating and inspiring historical figure!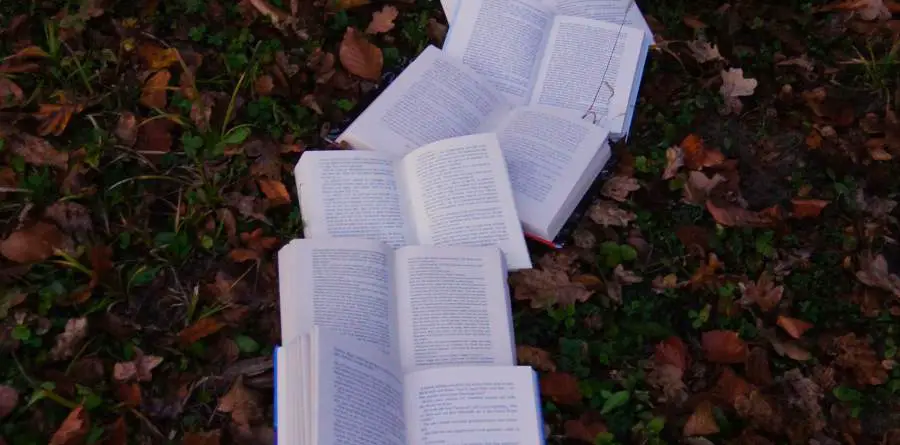 This blog post contains affiliate links
What Was Helen Keller's Most Famous Book?
Of the 12 books Helen Keller wrote during her lifetime, the most famous one is The Story of My Life. She also wrote several well-known articles that were published by various sources. 
Let's take a closer look at each of Helen Keller's books: (*Note: All books are available from Amazon.com, save for Peace at Eventide and The Open Door, which were currently unavailable at the time of this writing.)
The Story of My Life (1903): This memoir was published when Helen Keller was a young woman. It reveals her struggles and joys throughout her childhood and learning with her teacher, Anne Sullivan. One of the most memorable moments in this autobiography is the moment at the water pump, where Helen Keller realized that objects had names. 
Optimism: An Essay (1903): In this text, Helen Keller discusses her positive outlook on life despite her struggles and challenges. In her perspective, optimism is not something someone is born with but a mindset one can cultivate over time. She believed it was only through working through suffering that someone could achieve true optimism and see the good in the world. 
The World I Live In (1904): This book is an intimate and personal look into Helen Keller's sensations and imagination. She also argues that all of the senses, including sight and sound, are available to her through her language knowledge. 
The Song of the Stone Wall (1910): The poetry in this book is set in New England and is from the perspective of a stone wall that has witnessed the nation's history. 
Out of the Dark (1913): This book is a collection of various articles and letters that discuss socialism, capital, labor, education for women, women's suffrage, and what should be done for the blind and deaf. Some of the most famous titles include "Our Duties to the Blind," "The Education of the Deaf," and "What the Blind Can Do."  
Light in My Darkness (1927): This book was originally published as My Religion and is considered Helen Keller's spiritual autobiography. In this work, Keller explains that the teachings of Emanuel Swedenborg guide her throughout her life and describes why these particular teachings resonate with her so much. 
Midstream: My Later Life (1929): In Midstream, Keller describes her life 22 years after she graduates from Radcliffe. She writes about personal subjects, such as her love of reading, and her more universal passions, such as the hard times of the disabled. 
Peace at Eventide (1932): This slim volume by Helen Keller features her reflections on suffering and death. With thoughtful contemplation and reflection, she emphasizes that grieving or sorrowful people are not alone. 
Three Days to See (1933): This is a short published article in which Helen Keller discusses what she would do if she could see, even if it was just for three days. She also argues that it would be a blessing for everyone to go deaf and blind for three days, so they could understand everything that people take for granted.  
Let Us Have Faith (1940): In this short book, Helen Keller reaffirms her faith in the future of mankind, even in the face of defeat and despair. It is a testimony of Keller's faith and a call to action for readers to have more hope for the future of humanity.  
Teacher: Anne Sullivan Macy (1955): This is a tribute to Helen Keller's beloved teacher Anne Sullivan Macy, who finally broke through to Helen in her childhood and taught her language. Anne Sullivan also provided a lifetime of guidance to Helen and worked with her on her lectures, books, speeches, and other engagements. 
The Open Door (1957): Helen Keller's final book discusses her general thoughts about faith, advocacy, and philosophy. It is an intimate look into Keller's mind and her beliefs towards the end of her life.  
Helen Keller's Accomplishments 
Publishing 12 books wasn't Helen Keller's only major accomplishment. Here are some of her other incredible achievements: 
She earned a Bachelor's degree, despite her multiple disabilities, and was the first person both blind and deaf to do so. Helen attended Radcliffe in Cambridge and was the first deaf and blind person to graduate with a BA degree. 
She lectured on behalf of the American Foundation of the Blind and established an endowment fund for the organization. Keller spent most of her life supporting the American Foundation of the Blind, which gave her a platform to advocate for the needs and rights of blind people.
She co-founded Helen Keller International with George Kessler. Helen Keller International promoted agricultural programs that helped families grow nutritious foods and addressed two major causes of blindness: nutrition and eye health.
She received the Presidential Medal of Freedom in 1964. This is the highest civilian award in the United States, and President Lyndon B. Johnson awarded it to Keller.    
She was an effective social and political activist. Helen Keller was a member of the Socialist Party and supported the working class, women's suffrage, and women's right to birth control. 
Helen Keller was an impressive individual in many ways, including her published books and her other awards and accolades. 
Conclusion 
Helen Keller filled many roles throughout her life: a teacher, an activist, and most importantly, a writer. She published 12 books from 1903 to 1957, which is an impressive feat for anyone, especially someone who was deaf and blind. Although she died in 1968, her thoughts, beliefs, and encouragement will live on in her books forever.