Even those people who've never seen or read it are likely familiar with the book (or the movie) Charlie and the Chocolate Factory by Roald Dahl. However incredible it is, though, it's only one of Dahl's many books for children.
All in all, Roald Dahl wrote 24 books for children. Of these, 18 were children's fiction, and three were books of poetry for kids. The final three were non-fiction books appropriate for children, including Roald Dahl's Guide to Railway Safety, the autobiographical Boy,and The Great Mouse Plot.
Although some of these books were published posthumously, Dahl authored them all. In this article, I'll talk more about Dahl's renowned books, including those he wrote both for children and adults.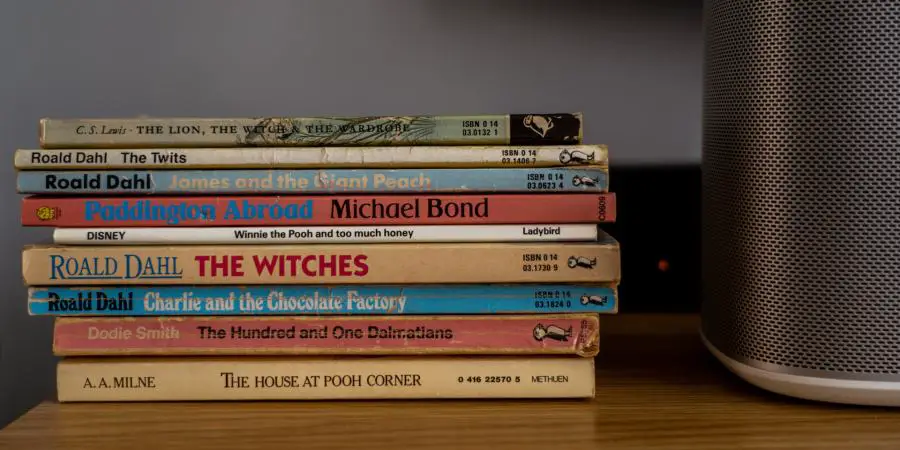 What Are the Names of Roald Dahl's Children's Books?
The following is a list* of Roald Dahl's children's books, starting with fiction, then poetry, and ending with non-fiction:
Charlie and the Chocolate Factory
Charlie and the Great Glass Elevator
Matilda
The Witches
The BFG
James and the Giant Peach
The Gremlins
Danny, the Champion of the World
Fantastic Mr. Fox
The Magic Finger
George's Marvelous Medicine
The Twits
The Enormous Crocodile
The Giraffe and the Pelly and Me
Esio Trot
Roald Dahl's Incredible Chocolate Box (posthumously)
The Vicar of Nibbleswicke (posthumously)
The Minpins (posthumously)
Rhyme Stew
Dirty Beasts
Revolting Rhymes
Roald Dahl's Guide to Railway Safety (posthumously)
Boy: (Tales of Childhood)
The Great Mouse Plot (posthumously)
*This list of books and any following lists are taken directly from the Roald Dahl website to ensure accuracy.
Did Roald Dahl Write Books for Adults?
Although many people don't realize it, Roald Dahl also wrote several books for adults. There were 20 adult fiction books and collections of short stories. He also wrote five additional non-fiction books geared more toward adults than children.
The adult fiction books that Dahl published in his lifetime include the following:
Ah, Sweet Mystery of Life: The Country Stories of Roald Dahl
The Best of Roald Dahl
Kiss Kiss
More Tales of the Unexpected
My Uncle Oswald
Over to You: Ten Stories of Flyers and Flying
The Roald Dahl Omnibus
Roald Dahl's Book of Ghost Stories
Someone Like You
Sometime Never: A Fable for Supermen
Switch Bitch
Tales of the Unexpected
Twenty-Nine Kisses from Roald Dahl
Two Fables
The Wonderful Story of Henry Sugar and Six More
These five adult fiction books were published after Dahl's death in 1990:
The Collected Short Stories of Roald Dahl
The Great Automatic Grammatizator
Roald Dahl: Collected Stories
The Roald Dahl Treasury
Skin and Other Stories
Pamphlets and other adult-themed non-fiction works of Dahl's include:
Going Solo (autobiographical)
Measles: A Dangerous Illness
Memories with Food at Gipsy House (posthumously)
My Year (posthumously)
The Mildenhall Treasure
What Is Roald Dahl's Most Famous Children's Book?
Although Dahl is famous for many of his children's books, Charlie and the Chocolate Factory is by far his best-seller and is also considered his most famous. However, many other Dahl books have gained exceptional popularity – enough to be made into cartoons and movies.
The 2007 release of The Twits is the best-selling single edition of all Dahl's children's books, but its 302,300 copies sold come nowhere near Charlie and the Chocolate Factory's total sales of over 990,000.
Charlie and the Chocolate Factory also tops the charts for Dahl on Amazon.co.uk. There, it's followed closely by The BFG and George's Marvelous Medicine. Other books, such as James and the Giant Peach, Matilda, The Witches, and Fantastic Mr. Fox, are also popular enough to be household names.
What's the Best Roald Dahl Book for Children?
There's no single answer to which Roald Dahl book is "best" for children because determining the best of something is primarily a matter of taste and opinion. Though Charlie and the Chocolate Factory is the clear winner in terms of sales, some people prefer Matilda, The Twits, oranother Dahl book.
If you're looking for "the best" Roald Dahl book for your child, my recommendation would be to check several of them out, read them for yourself, and figure out which one you think would best suit your kid.
Some of Dahl's books are more appropriate for young adults, but others will be enjoyed much more by younger kiddies. If you're a bit of a book nerd like me, then it shouldn't pain you too much to do a few pre-reads for your children.
Otherwise, think back to your own childhood. Was there a particular favorite of yours when you were a certain age? Is your son or daughter a lot like you? If so, your old favorites could be just the books to introduce them to the rich and exciting world of Roald Dahl.
What Was Roald Dahl's First Children's Book?
Roald Dahl's first kids' book – and his first published book period – was The Gremlins, which appeared on the shelves in 1943. He wouldn't publish his first book of children's poetry until much later, in 1982. He released his initial collection of short stories for adults in 1946.
As of the writing of this article, the last Roald Dahl book published was the 2016 release of The Great Mouse Plot, published posthumously for World Book Day. The last book he published before his death was the children's book Esio Trot.
Which Roald Dahl Books Have Movies?
Several Roald Dahl books are now movies and cartoons, including The Witches, Charlie and the Chocolate Factory, The BFG, Esio Trot, James and the Giant Peach, Matilda, Fantastic Mr. Fox, and more.
Other visual media inspired by Dahl's work include Quentin Tarantino's Four Rooms and 1989's Breaking Point.
Final Thoughts
The contributions Roald Dahl made to the world of children and young adult fiction cannot be overstated. He was a remarkably gifted writer who has been inspiring young minds for generations.
With 21 works of children's fiction, three books of poetry for kids, and a handful of non-fiction works (plus all the adult books he published), he's not someone the world is likely to forget anytime soon.
Sources