With so many calculus books that differ in content depth and presentation, it's hard to determine which one to buy. Luckily, I have found the best 14 calculus books for you to consider so that you can make an informed decision.
The best calculus book overall is Thomas' Calculus: Early Transcendentals 13th Edition. It has a reputation for helping students achieve calculus proficiency through concise, simplified, and intuitive explanations. Using this book enables you to go above memorizing formulas to generalizing concepts.
In this guide, I'll review some other leading calculus books so you can choose one that best suits your needs.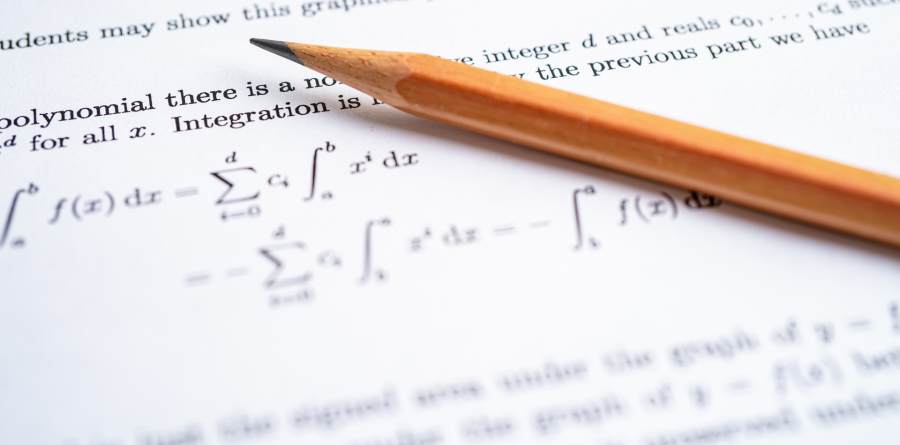 This blog post contains affiliate links
Written by George Thomas Jr, Joel Hass, and Maurice Weir, this calculus book is ideal for college students with prior calculus exposure. It seeks to strike a balance between familiar concepts and developing new advanced ones. 
The material borrows from a traditional course while still accommodating the technical changes and shifts in calculus application in the modern world. 
The detailed content covers a year's worth of study for engineering, mathematics, and natural science students. Whatever level you are in mastering calculus, you'll find this book helpful because it presents concepts precisely with superior features, helping you to generalize concepts rather than master formulas.
Pros
Provides writing exercises. The book contains writing exercises and end-of-chapter questions that challenge you to summarize and review what you've learned.
Provides computer application projects. The book has advanced technology application projects that require computer systems such as Maple and Mathematica. However, the projects can be long and require an extended period to finish.
Contains examples and applications. Each topic consists of simple examples drawn from modern real-life activities, making them interesting and easy to understand.
Cons
The book does not accommodate absolute beginners. Instead of focusing on the why, it leans toward the how instead. 
Much of the book consists of technical calculations. This leaves less room for theoretical explanations. 
James Stewart's Calculus Early Transcendentals emphasizes understanding concepts through an algebraic, numerical, and geometrical presentation. Not only does the book convey the technical and practical application of calculus, but it also gives you an intrinsic appreciation of the power of calculus. 
Because of its accurate, patient, and relatable examples, this book is among the best sellers globally. If you'd like to succeed in mathematics, you should definitely consider this book. 
Pros
Conceptual and graded exercises. Solving problems is the best way to cultivate conceptual understanding, and this book features multiple graded exercises on basic and advanced topics.
Real-world data. The book borrows heavily from real-life examples, which makes the concepts interesting and easy to understand.  
Projects. In the book, you'll find applied, laboratory, discovery, and writing projects which can give you a sense of accomplishment when you finish them as a group or individually.
Cons
Proof of theories and formulas can be highly complex. This can confuse and sometimes frustrate students as they are difficult to understand. 
Not Ideal for students looking for conceptual understanding.
If you're a calculus freshman and find it frustrating and perplexing, you should give the Calculus Lifesaver by Andrian Banner a chance. This book concentrates on problem-solving skills while helping you learn single-variable calculus concepts. 
Andrian was inspired to write this book while conducting a calculus review course at Princeton University. He has written the book using inner monologues to guide students seeking to refresh calculus concepts or score top grades in exams. 
This book can act as a school textbook when supplemented with more exercises, or it can be a study guide for an instructor preparing lectures on problem-solving techniques. 
Pros
Informal writing style. Andrian writes the book in a fun, non-intimidating style without compromising on clarity.
Theory-based examples. Examples have notes explaining what should run through your mind when solving problems.
Recorded lectures. The book has supplemental videos which review most of the sections and examples.
Cons
Exercise questions are not comprehensive. If you're looking for extensive and comprehensive practice questions, this book may not be ideal.
Some readers find the book oversimplified. The oversimplification might not be suitable if you are looking for a deeper insight into calculus.
Best for Self-Study: Calculus
Though published in 1967, this book by Morris Kline is a typical how-to guide for calculus topics. Kline uses plausible arguments to support the development of concepts and extensive applications to build intuition. 
While most application examples are from physics, social, and biological sciences, you don't need to have a background in any of these fields. The book explores topics gently and slowly to accommodate even beginners who are not proficient.
Pros
Detailed concepts. This book covers the topics in-depth to support students who are struggling or self-studying. 
Application examples. The examples draw heavily from real-life situations making complex chapters easier and encouraging students to solve questions without memorizing formulas.
Cons
Some students find that it lacks vigor. If you're not studying engineering or science, you may find the book dry.
The exercises are challenging. If you haven't understood all the concepts thoroughly, you may find the exercises difficult. 
Calculus is a common college course that many students find intimidating. However, Pre-Calculus for Dummies by Mary Jane Sterling makes the subject more approachable. 
This book simplifies integration and differentiation into understandable topics to help you lay a solid foundation for more advanced topics. After completing all the lessons and exercises in this book, you'll have the confidence to handle upper-level mathematics. 
Pros
Covers calculus basics. The book uses a simplified approach to explain the fundamental topics of calculus, such as quadratic equations, absolute values, matrices, trigonometry identities, and exponential function.
Provides formulas. The book provides many of the most frequently-used calculus formulas to help you memorize and avoid common mistakes.
Cons
Does not provide proof or an explanation of the formulas. This can result in confusion, requiring the student to consult other books or information on calculus. 
Online version contains mistypes of values that may be misleading for students.
Calculus by Larson and Edwards is popular among generations of instructors and students for presenting concepts in a readable and precise manner. For instructors, the book employs comprehensive pedagogical techniques that help to free up time for class work.
Students also find this book helpful because it offers materials and features to help them master concepts at any level. Capstone exercises help in conceptualizing and understanding topics and preparing for tests. 
Pros
Mastery tools. Each section has non-computational and conceptual Capstone exercises which show how the topics relate. 
Contains examples. The text contains hundreds of step-by-step examples demonstrating the techniques of solving problems, making it easier for students.
Provides study tips. These act like the comments an instructor would make in class to caution on common mistakes and confusion students should avoid.
Has review exercises. Throughout the book, you'll find robust and comprehensive review and application exercises for practice.
Cons
The text is so detailed and requires extra effort to cover all topics.
May be overkill for students taking basic calculus only. Although this calculus book is comprehensive and thorough, if you are only taking one semester course of calculus, you may not use the entire book. 
Most Well-Known: Calculus
Calculus by Michael Spivak is considered by many to be the finest introduction to mathematics and calculus analysis. It shows how logical reasoning and fundamental concepts combine to develop mathematical theories without using rote tools and techniques. 
Because analysis is always a challenging topic for students to grasp, Spivak uses simple explanations, patient examples, and plenty of exercises as learning aids. 
Pros
Profound introduction. Remember your first encounter with mathematics? This book gives the same experience with calculus by starting from the simple (a + b) + c = a + (b + c) and advancing gracefully.
Theoretical approach. The book is conversational with subtle humor, which is uncommon in calculus books.
Cons
There are some gaps between exercises and theory. This could cost students time as they try to figure them out. 
It only covers one variable calculus and lacks answers for all problems. If you use this book, you may need to invest in another one for a more thorough understanding of calculus. 
If you don't want to burn the midnight oil reading over 500 pages of a calculus book, you should consider using Calculus in 5 Hours by Dennis Jarecke. This book progresses nimbly and quickly by distilling complex calculus topics into easy-to-understand bullet points. 
This straightforward guide uses simple explanations, diagrams, and examples without burdening you with proof of theories which may lead to confusion. Within a day, you can cover most of the topics and have the confidence to face a test. 
Pros
Short chapters. Chapters such as functions, derivatives, and integrals are brief with the recommended time frame on the heading. However, you may need more time to solve the exercises at the end of each chapter.
Has illustrations. Jarecke uses simple graphs to demonstrate functions and to explain how they relate to daily activities.
Cons
Might be too superficial for some students. Although this book covers a lot of ground, it does not justify solutions, which is a struggle for most learners.
You need prior exposure to calculus. If you have never learned calculus before, you may have difficulty understanding the deeper concepts. 
Science, technology, engineering, and mathematics students will find Multivariable Calculus with Applications a helpful companion because of its precision and generous introduction to multiple variables. In addition to the common calculus topics, the book covers divergence theorems and multiple integrals.
Sometimes the beauty of mathematics lies in knowing where you can apply it in real life. This book is evidence of this and is full of modern science application examples which reveal how calculus blends with daily activities. 
Pros
Pedagogic presentation. The author helps students understand the material better by presenting examples and explanations in low dimensions before advancing to more general cases.
Application examples. The text relies on the relationship between mathematics and science to demonstrate how conversion laws, differentiation, and physical theories apply in modern life.
Cons
The book requires a solid background in calculus basics and single variable calculus.If this is your first semester taking calculus, you may need to invest in another book to cover the basics, as it's not suitable for absolute beginners. 
Advanced Calculus by Buck is an invaluable resource for students interested in mathematical applications or research. It presents numerical and analytical techniques and applications in clear and logical notations of analysis, and demonstrates analysis as a subject and a tool in its own rights.
The clearly written and well-organized text exposes students to mathematical literature, theories, and concepts to help cultivate self-study skills. It also summarizes elementary calculus to lay a good foundation for advanced computations.
Pros
Use a modern approach. The book uses a modern approach to differentiation and integration and introduces the theory of differential forms. 
Easy-to-understand mathematical literature. If you find calculus language intimidating, this book offers a solution by introducing language for fundamental concepts to prepare you to study on your own.
Introduction to real analysis. The book gives a classical presentation of single and multivariable analysis as a tool and topic.
Cons
It requires patience and plenty of time. There are many complex exercises that most students find time-consuming. 
It's only helpful for learners with a comprehensive understanding of calculus. If you are new to calculus, this book may not be ideal for you.
Financial Calculus by Martin Baxter and Andrew Rennie introduces learners to derivative securities' construction, hedging, and pricing. Because finance calculus is complex, the authors present concepts and examples to accommodate managers and market novices who may stumble around basic principles. 
The book emphasizes the importance of hedging to justify price while also exploring other topics like the change of measure, representation, martingales, and the Heath-Morton model.
Pros
Practical examples. Financial calculus deals with actual market figures, and the book uses data from interest rate markets, stock, and currency to make realistic presentations.
Provides definitions. As long as you have prior experience with symbolic notation and differential calculus, this book is easy to understand, and has a glossary of financial terms and probability definitions.
Cons
Only covers the basics of financial calculus. If you're looking for a more in-depth book on financial calculus, this one is not it. 
Lacks computer application exercises. Such exercises are fundamental for using financial software.
Painless Calculus, published in 2021, is the best companion for busy students, as the author explains the following topics in a clear and easy-to-understand way:
Equations 
Inequalities 
Exponentials
Roots 
Polynomial
Algebra
Pros
Contains useful tips. Each topic has tips on the pitfalls to avoid when answering questions.
Exercises. At the end of each topic, you'll find review exercises to help you practice and review concepts. There are also games, puzzles, and complex brain tickler problems.
Cons
The book has some typing errors. These may cause confusion for students who are not conscious.
There are no answers to exercises. This can be frustrating if you make a mistake and fail to realize the missed step.
Calculus Problem and Solutions by Ginzburg is the best practice book if you have mastered all the concepts and need to practise. It contains more than 1000 questions with comments or explanations of the theory to apply when finding solutions. 
Pros
The questions have solutions to countercheck. 
The book is comprehensive. It covers questions for topics such as differential calculus, the limit of a function, sequences, applications of the definite integral, and more.
Cons
Instead of step-by-step solutions, the book mostly gives answers to questions.
Though the author aims to improve understanding, some questions are complex and require deeper insights.
Best for a Casual Interest in Calculus: Calculus Reordered
To understand how calculus evolved from ancient days to today, you should read Calculus Reordered by Bressoud. He walks you through a historical journey from the 17th century to explain how great minds such as Gottfried Leibnitz and Isaac Newton contributed to the development of calculus in the 19th century.
The book is fascinating, with many mathematical derivations, proofs, arguments, and illustrations. Bressoud argues that historical development and pedagogy make it easier for students to understand calculus in the classroom. However, he notes that instructors teach concepts in reverse of how mathematicians discovered them.
Pros
The author gives a detailed overview of how mathematical analysis developed.
It uses clear, authoritative, and engaging language to make the prose entertaining yet informational.
Cons
Only a person with a solid background in calculus can make sense of the book.
 Though the text is informational, it is not ideal for teaching or self-study. 
Final Thoughts
Supplementing your lecture notes with a calculus book can help you understand concepts better and score higher grades in exams. However, not every book may be suitable for you, and you should assess the book's content and presentation to ensure it meets your needs.