Napoleon Bonaparte is one of the most fascinating and influential figures in history, and therefore, many historians and writers have chronicled his life and accomplishments in books. If you're interested in picking up a book about Napoleon, it may be difficult to determine which one to choose because there are so many available. Luckily, I'm here to help!
The best book overall about Napoleon is Napoleon: A Concise Biography by David A. Bell. This biography provides a succinct and accessible overview of Napoleon's life and military strategy in language that a general audience can understand.
In the rest of this article, I'll discuss the best books available about Napoleon so you can find the one that fits you and your reading taste. Let's get into it!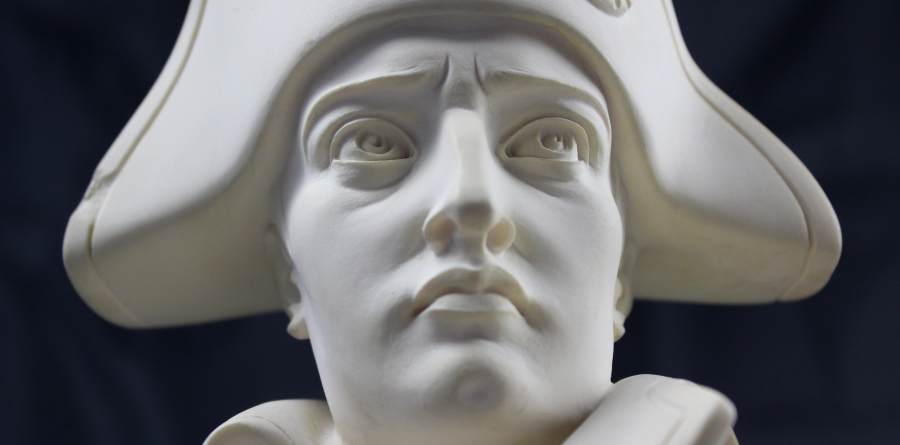 This blog post contains affiliate links
This biography situates Napoleon in a historical context in a concise and easy-to-understand way. The book chronicles Napoleon's astonishing military accomplishments, rise to power, rule over a powerful European empire, and ultimate exile, but does so briefly and without bombarding readers with too much detail or unnecessary information.
Bell heavily emphasizes the importance of the French Revolution in Napoleon's career trajectory, as he argues that the revolution made Napoleon's political authority and mobilization of resources possible. Bell's account of Napoleon is well-researched and thought-provoking.
You can purchase a Kindle or hardcover edition of Napoleon: A Concise Biography on Amazon.
Pros
This book is extremely informative. David A. Bell does not waste words in this concise biography. Despite its short length, this book contains lots of information about Napoleon, his life, and his military strategy.
This biography is less than two hundred pages. Some biographies and historical books can be intimidating, especially long ones. Biographies can be extremely lengthy; however, this account of Napoleon is concise and short enough to be read in one sitting. Because of its short length, you're more likely to pick it up and actually finish it instead of allowing it to collect dust on your bookshelf.
The book is written for a general audience. Even if you aren't a history buff, you'll be able to follow the narrative of this book because it is written in such a way that a general adult audience could understand. A helpful introduction at the beginning explains the French Revolution, which provides important context for Napoleon's rise to power.
Cons
This biography isn't as detailed as some other options on the market. Napoleon had a full and fascinating life, and because of this book's short length, some facts are omitted. If you want a complete account of Napoleon's life without leaving out any detail, this may not be the best option for you.
There is a large focus on military actions. Napoleon's military strategies and actions are crucial in history, so it makes sense that most biographies and accounts of his life will focus on this part of his life. However, if you're seeking more information about Napoleon's personal life, you won't find it in this biography.
The Napoleonic Wars were complex, but this comprehensive run-through of all the battles explains and analyzes the events understandably and thoroughly. This book highlights Napoleon's military genius, as he could win all kinds of battles, even if he was outnumbered or enveloped by the enemy.
You can buy The Campaigns of Napoleon on Amazon.com.
Pros
David Chandler provides detailed descriptions and analyses of every major battle in Napoleon's military career. Chandler describes what happened and analyzes the maneuvers, weaponry, and organization of every one of Napoleon's campaigns to explain the result.
This is a complete account of Napoleonic Warfare. No battle or detail is left out of this book, so if you want a comprehensive volume, this is the option for you. You won't have to read any other book on the Napoleonic Wars, as this book contains it all.
Cons
This book is over 1,000 pages. Many people may not have the time or attention to read about military strategy for over 1,000 pages. If you're interested in reading this book but want to improve your reading speed so it doesn't take you months to finish, there are some methods you can employ to improve your reading speed.
Some of the maps are difficult to see. Many of the maps used in this book are period and small-scale, so it can be challenging to see and interpret them.
The book only covers Napoleon's military activity. If you want to know more about Napoleon's childhood or personal life, this isn't the best choice for you. This history is just of Napoleon's military campaigns, not his entire life.
Baron Bausset, a palace chamberlain in close proximity to Napoleon, wrote this book. He followed Napoleon on his campaigns and lived in his palaces with him, and in this book, he recounts everything he saw and heard about Napoleon, his generals, and his wives. This account offers a personal insight into Napoleon as a husband, father, and employer.
A hardcover copy of Private Memoirs of the Court of Napoleon is available on Amazon.
Pros
Many books about Napoleon focus on his military campaigns, but this book provides unique insight into Napoleon's personal life. Napoleon's military accomplishments are fascinating and certainly worth learning about, but so many other books about Napoleon only focus on this aspect of his life. Bausset lived in Napoleon's palaces with him, so he reports on who the leader was as a husband and father.
You'll learn more about Napoleon's family. Bausset knew Napoleon's family well, and in this book, he writes not only about Napoleon but also about his wives and children.
Cons
Some might find the language difficult to understand. This book was written in the 1800s, so some readers may struggle with the antiquated language.
Bausset admired Napoleon, so his accounts may be biased. This book demonstrates that Bausset greatly admired his employer, so his descriptions and accounts of events may be skewed to present Napoleon in a more favorable light.
This book focuses on Napoleon's formative years and youth, which helps explain how he becomes the driven and ambitious man we know today. In this book, readers learn about Napoleon's French education, his interactions with radicals of the French revolution, his first military campaigns, and his media manipulation.
Napoleon: The Path to Power is available in Kindle, hardcover, and paperback editions on Amazon.com.
Pros
Dwyer uses a variety of primary and secondary sources. Dwyer did his research for this book as he draws on many primary sources and bolsters these sources with secondary sources, which offer a full picture of Napoleon.
Despite the many details, this book is incredibly readable. Some historical books have so much detail and analysis that readers can get bogged down. This book, however, contains plenty of detail but shares this information in a readable and easily digestible way.
Cons
Dwyer is perhaps overly critical of Napoleon. Dwyer argues that Napoleon was a ruthless and manipulative man and tends to focus on sources that support this argument and dismiss sources that may offer a different perspective.
Military historians will be disappointed. This book offers little military detail and bare descriptions of battles, so those fascinated by Napoleon's military strategies and actions are likely to be disappointed in the sparseness of this book in this regard.
This book is intended for readers aged 7-9 and features colorful pictures of Napoleon and important people and places in his life. The history is concise but informative, so kids will learn something new without getting bored. This book addresses the most common controversies and myths surrounding Napoleon in an easily understandable and entertaining way.
The Illustrated Life of Napoleon Bonaparte is available for purchase on Amazon.com.
Pros
This book provides a concise but complete history of Napoleon. You won't find every detail about Napoleon's military strategy here, but the book provides an accurate, overall account of Napoleon's life that kids can understand.
The illustrations are colorful and attention-grabbing. Most kids need illustrations to stay engaged, especially when reading about history. Luckily, the illustrations in this book are incredibly well-done and will keep kids interested.
Cons
There aren't that many details. Because this is meant to be a concise account of Napoleon's life, this book doesn't have many details. The information provided is sufficient for most young readers, but some may find it lacking in some areas.
Some parts may be difficult to understand. Even though the book does a good job of using language that a young audience can understand, there are still some areas that some kids may find confusing. History is complex!
This one-volume biography takes advantage of the publication of 33,000 letters by Napoleon, which provides a more thorough understanding of Napoleon's motivations and character. Roberts traveled to fifty-three of the sixty Napoleonic battle sites to discover new information and go through documents in archives. The result is this complete and comprehensive history of Napoleon as a man and a soldier-statesman.
You can purchase Napoleon: A Life on Amazon.com.
Pros
Roberts vividly depicts battle scenes. Because Roberts traveled to so many of the battle sites himself, he can illustrate the movements of Napoleon's armies engagingly and accurately.
The book is based on credible sources. Roberts bases much of this book on letters written by Napoleon himself, and he acknowledges that much of the source material used for other biographies were ghostwritten by people trying to impugn his memory.
Roberts describes Napoleon's personal life as well as his military achievements. Many other books focus on either Napoleon as a man or Napoleon on the battlefield, but this book does both thoroughly and accurately.
Cons
The book is long. A comprehensive biography like this one will be lengthy, and this one is nearly 1,000 pages. This might be intimidating for some readers and take a long time to get through.
If you're a fan of maps, this is the Napoleon book for you. This atlas features a comprehensive overview of the military battles led by Napoleon between 1796 and 1815, but the highlight of this book is the large and beautifully illustrated maps that allow readers to follow the course and terrain of Napoleon's campaigns.
You can purchase A Military History and Atlas of the Napoleonic Wars on Amazon, although keep in mind that the full-page color maps make this book pricier than any other option on this list.
Pros
The book features 169 full-page maps in full color. Any map lover will adore these detailed and beautiful maps that make tracking Napoleon's movements and courses possible. Unlike other biographies that feature maps that are difficult to see and read, these maps are clear and easy to follow.
A full narrative history accompanies the maps. The maps are the highlights of this book, but it also features detailed and accurate narratives to help readers havegain
Cons
The book does not go into detail regarding Napoleon's personal life. This book is best for those primarily interested in Napoleon's military strategy and campaigns and not his personal life and upbringing. This isn't the best source if you're seeking a comprehensive narrative of Napoleon's entire life.
Final Thoughts
Because Napoleon is such an influential historical figure, many books about him are available to those interested in learning more about this fascinating man. However, the best book for you depends on your particular interests and preferences. A great starting point for someone wanting to learn more about Napoleon is Napoleon: A Concise Biography by David A. Bell.