Dr. Seuss is a beloved author who wrote and illustrated more than 60 books in his lifetime. These were, and still are, charming reads that captivate both children and the adults who read the books to them, but how did Dr. Seuss become so famous?
Dr. Seuss became so famous because he wrote books that helped children learn to read in new and interesting ways. He also illustrated his books and produced animations that were based on them.
In this article, I'll explore these and other reasons why Dr. Seuss became so famous and why he's still so loved.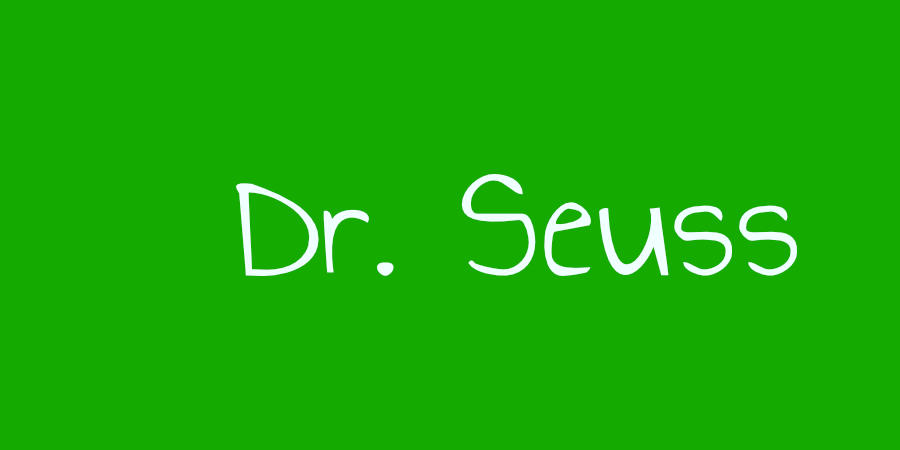 What Book Made Dr. Seuss Famous?
The book that made Dr. Seuss famous is The Cat in the Hat, published in 1957. This book captivated audiences and movies were based on it, which helped make Dr. Seuss a household name.
Dr. Seuss's first book, And To Think That I Saw It On Mulberry Street, was published in 1937. It was well received but did not become a bestseller. Horton Hatches the Egg, published three years later in 1940, became Dr. Seuss's first bestseller, but it was just not as popular as The Cat in the Hat.
This book is about two children who are home alone while their parents are away and are visited by a tall cat wearing a hat. The cat causes mayhem in the house that has to be cleaned before the parents return. The story features themes such as trust and responsibility.
The Cat in the Hat was an instantaneous hit when it hit the shelves. This book alone made Dr. Seuss famous, and it inspired the establishment of Beginner Books. This publishing house produced books that were similar to The Cat in the Hat and concentrated on helping children learn in new and interesting ways.
In interviews, Dr. Seuss mentioned how he wanted the cat in the story to be a symbol of a type of revolutionary spirit. The cat is certainly an alluring character—he isn't even a traditional cat!
Around the time that Dr. Seuss wrote The Cat in the Hat, he also released a book entitled How the Grinch Stole Christmas! This is one of Dr. Suess's most popular works of fiction as it has been adapted into a feature film (2000), a Broadway musical (2006), and an animated movie (2018).
The Cat in the Hat has also been turned into movies on the big screen. In 2003, famous actor Mike Myers played the role of the cat, which further continued Dr. Seuss's legacy and popularity.
Why People Loved Dr. Seuss
Dr. Seuss had many top-selling books besides The Cat in the Hat, but why was he so popular? What was it about his writing that made him such a popular author who is still loved by millions today?
Let's look at some of the reasons why Dr. Seuss became such a famous literary figure during his lifetime and after his death in 1991.
He Wrote Books To Help Children Learn To Read
One of the most important contributions Dr. Seuss made to society, and a big reason for his fame, is that he concentrated on writing books for children who struggled to read. He didn't just write them—he also published them.
In 1958, Dr. Seuss established Beginner Books Inc. This would later form part of Random House. Under this publishing label, he published many books for children to help them learn to read. Some of his most popular books under this label included:
One Fish Two Fish Red Fish Blue Fish (published in 1960)
Green Eggs and Ham (published in 1960)
Hop on Pop (published in 1963)
Fox In Socks (published in 1965)
These books were inspired by Dr. Suess's strong desire to help children. It's been theorized that Dr. Seuss read an article in Life magazine about how children experienced difficulties with learning to read because books tailored to them weren't interesting or fun.
This encouraged Dr. Seuss to write books that were more entertaining for children so that they could learn how to read while having fun.
He achieved this with illustrated books that were written according to a simple formula that used rhymes. Dr. Seuss made such an impact on children's learning with his books because he provided children with a fun and refreshing way for them to learn sounds and language.
His books also helped children learn how to think critically and solve problems, so they were an all-around education for them. This was something that other books at the time weren't achieving. Dr. Seuss won a Pulitzer Prize in 1984 for his positive impact on the education of American children and their parents.
His Writing Is Unique
One of the biggest reasons for Dr. Seuss's fame and popularity is that his writing was unique. He made use of essential elements that made him stand out from other authors at the time. Here's a rundown of some of his most popular writing techniques:
Rhyme. All of Dr. Seuss's books have rhyming patterns. These make the books fun for kids to read and remember while also helping them learn about language.
Colorful characters. Dr. Seuss created characters that were unlike any others. Examples include the Grinch, who is a green monster, and the Lorax, a fluffy orange character.
Anapestic meter. This writing technique can be described as two short syllables followed by one long syllable. This produces a rolling verse.
Repetition. Dr. Seuss would use a lot of repetition in his books and even reuse phrases throughout his verses. Repetition serves to strengthen the points of the story.
Alliteration. Examples include "grickle-grass" and "goat girl googoo goggles." Alliteration helps to set the story's pace and can serve to speed it up.
Made up words. Dr. Seuss made up many silly words he used in his books, which served to make his work memorable and different. Examples include "gluppity-glup" and "thneeds." Although these words are fun to say, they also help kids to learn the sounds of words.
His Books Were Published at the Right Time
When Dr. Seuss published his children's books, they appealed to children and parents not just because they were illustrated and featured fun rhymes but also because of how they fulfilled a need in society.
When Dr. Seuss started publishing his writing, children's books at the time were boring and dull. They didn't help children feel enthusiastic about reading or learning. There were children's books that are still considered classics today, such as Winnie the Pooh, but these didn't have the creativity and innovation that can be found in Dr. Seuss's books.
Although Dr. Seuss's books appear lighthearted, they have many layers. His books can be described as being a satire of society and politics. However, they don't become bogged down by the seriousness. Dr. Seuss was creative and intelligent enough to mask the seriousness and sadness with wordplay and rhymes.
This blend of serious issues and lighthearted silliness is what makes Dr. Seuss so appealing to both adults and children. Dr. Seuss's deeper truths and social commentaries make his books popular with adults and teach children important lessons.
Here are some examples of issues that can be found in his books.
Horton Hears a Who! In this book, Dr. Seuss addresses conformity. Although Horton is different from other animals in the jungle, he doesn't want to conform. The message is to be yourself.
Yertle the Turtle. This book was removed from book lists of many schools because it was seen as too political. There are quite a few links to Hitler's rise and fall, with the ultimate message of the book being that people deserve freedom.
The Lorax. This book has a strong environmental message: that all creatures are negatively affected by the destruction of the environment and need to be protected.
How the Grinch Stole Christmas! This book is a closer look at commercialism and materialism, both of which blind us to what Christmas should be about, which is a time of love and kindness.
Thidwick the Big-Hearted Moose. This book is said to be about taking a stand against hunting.
He Produced Cartoons Based on His Books
Dr. Suess illustrated his own books, but what's not commonly known about him is that he also designed and produced animated cartoons that aired on television. These cartoons were based on his books, which helped his stories gain popularity.
Some of the animations inspired by his stories are:
Halloween is Grinch Night (1977)
The Grinch Grinches the Cat in the Hat (1982)
One of Dr. Seuss's animations even won him an Academy Award: Gerald McBoing-Boing, which was released in 1950. It was about a young boy who communicated through sound instead of words.
His Books Have Been Adapted Into Movies
One of the elements that help popular books remain in society for long after they're published is when their stories find their way onto the big screen and or theater. Many of Dr. Seuss's popular books have been adapted to both. These include:
The 5,000 Fingers Of Doctor T (1953)
How the Grinch Stole Christmas (1966)
Horton Hears a Who! (1970)
The Cat in the Hat (1971)
Green Eggs and Ham (1973)
Halloween Grinch Night (1977)
Some of these movies were aired again in later years. The Cat in the Hat, for example, was produced for TV again in 2003. Similarly, How the Grinch Stole Christmas! was aired in 2002, and Horton Hears a Who! was turned into a new movie in 2008.
When it comes to theater productions, Seussical (2000)is a musical comedy that has appeared on Broadway. It was a musical based on various Dr. Seuss stories, such as Horton Hatches the Egg and Horton Hears a Who! It's regarded as one of the most popular shows on stage.
His Books Are Classics
Although Dr. Seuss started writing his children's books decades ago, they are still popular today.
Dr. Seuss won many awards for his books. Some of his most notable awards include the following:
Children's Literature Legacy Award (1980)
Regina Medal (1982)
Caldecott Medal (1948, 1950, 1951)
One of the major reasons for Dr. Seuss's success is that his works are timeless. The ideas and lessons featured in his books are ones that never go out of style.
Take How the Grinch Stole Christmas! as an example. The takeaway of the story is that the festive season is about much more than materialism, and this still applies to our modern society.
Another timeless example of Dr. Seuss's work is The Lorax, It teaches people to respect the environment and take care of the planet instead of destroying it. This is something that applies today more than ever.

Dr. Seuss's works are engaging, and this is one of the hallmarks of a good children's book. You can read our guide to find out about the other characteristics that create a powerful story.
He's Famous for His Illustrated Drawings
Dr. Seuss is just as popular for his illustrations as for his writing. Just like his writing style, his illustrations were unique. His trademark style was to use black ink on white paper. Sometimes he'd use one or two colors in his illustrations.
If you take a closer look at the illustrations of Dr. Seuss's characters, you'll notice that their bodies are usually rounded. Dr. Seuss hated drawing straight lines! While this might sound quirky, it formed part of his artistic flair and made him memorable.
His illustrations were always interesting because they featured character gestures that were filled with drama. He also loved to display motion in his artwork, such as with sweeping lines.
Final Thoughts
You might love Dr. Seuss's writing, but what propelled him into a life of stardom and fame? There are many good reasons why Dr. Seuss is still famous today. These include:
Writing The Cat in the Hat, which became an instant hit.
Producing animations that were based on his books.
Writing children's stories in a unique style.
Helping children learn to read.
Sources